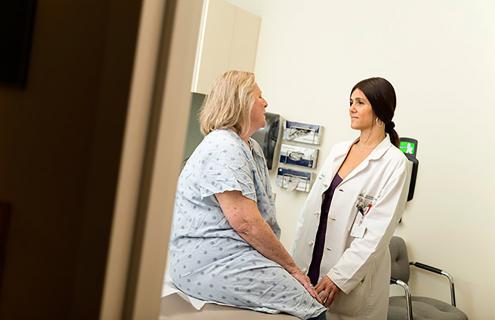 New surgical techniques allow women facing mastectomy to choose an approach that works best for them
NCCC surgeons work together to offer new tissue-sparing and nipple-sparing surgery methods, same-day breast reconstruction, and follow-up care coordinated with local physicians to help women find treatment that reflects their values.
Suzanne Jahn lost two loved ones in the month following her cancer diagnosis, making the period when critical decisions had to be made overwhelming. "I went to the local hospital to keep things simple, but I was given little information, and told my only option was a lumpectomy with no reconstruction," she says. "I was really numb and scared."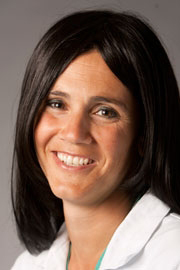 Jahn knew that there were other options to consider, but she didn't know where to turn. A friend urged her see Kari Rosenkranz, MD, medical director of the Comprehensive Breast Program at Norris Cotton Cancer Center. "Kari made me feel like I was human again," said Jahn. "She spent at least an hour with me on that first visit explaining my options and said 'We're going to fix this. It's early stage and you are going to be OK.'"
Tissue-sparing mastectomy can eliminate need for separate surgeries
Breast-conserving surgery (lumpectomy) followed by local radiation therapy has replaced total mastectomy as the preferred surgical approach for treating early-stage breast cancer, and many women now also opt for subsequent breast reconstructive surgery. The type of breast surgery a woman chooses depends on her individual diagnosis, but for some women immediate breast reconstruction before radiation, in a single surgery, eliminates the need for two separate hospitalizations. The surgeon is able to save more of the breast skin to use in reconstruction, and since the effect of radiation treatment on breast tissue may make delayed reconstructive surgery more complicated, same day reconstructive surgery can also retain a more natural breast shape and appearance.
Nipple-sparing surgery during same day breast reconstruction called "a game-changer"
Dr. Rosenkranz feels that the reconstructive surgery and nipple sparing mastectomies that NCCC has offered for the last four years are game-changers for many women. "We perform surgery for the mastectomy and breast reconstruction on the same day," she says. "Surgery after radiation treatment can be more difficult, and if the nipple and surrounding tissue are cancer free this method also allows us to do nipple-sparing surgery."
With a nipple-sparing mastectomy, the nipple and/or areola are left in place when the cancerous breast tissue is removed. The surgery is more challenging than a traditional lumpectomy because the blood supply to the nipple and surrounding skin must be maintained to keep the tissue alive. Immediately following this breast conserving surgery, a plastic surgeon steps in to reconstruct the breast and complete the operation.
Following a cancer diagnosis, close-to-home care helps with moving on
After weighing her options, Jahn chose to have same day reconstructive and nipple-sparing breast surgery. Her follow-up care will include radiation, taking an estrogen blocker for the next 5 years, and perhaps chemotherapy.
Because Rosenkranz collaborates with Jahn's physicians about her post-surgery care, she receives follow-up care and radiation treatment locally. This has helped her to return to her regular routines and move on with life.
"It's very empowering to be actively involved in making treatment choices, to know that a woman no longer has to just wait for things to happen," Jahn said. "If you want to be in life, you have to feel alive! Everyone on the team made me feel like the choices were about me and my life, not just my disease."
Resources:
Comprehensive Breast Program
National Cancer Institute
What Will My Breasts Look Like After a Lumpectomy?