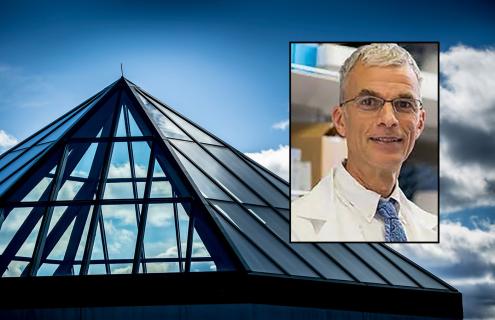 We are delighted to announce that, after an extensive national search, Dartmouth and Dartmouth-Hitchcock's Norris Cotton Cancer Center (NCCC) and the Department of Medicine have successfully recruited Tyler J. Curiel, MD, MPH, FACP, as the inaugural nominee for the Victoria Hall Gmelich 1991 and Justin G. Gmelich Professorship in Cancer Immunotherapy.
In this role, Curiel will provide visionary and expert leadership for the expansion of cancer immunotherapy research including in clinical trials. In addition to the Gmelich Professorship, he will hold an appointment as professor of Medicine (Medical Oncology) at the Geisel School of Medicine at Dartmouth and in the Department of Microbiology and Immunology in the Graduate School.
Curiel is a nationally renowned physician-scientist and is currently professor of Medicine and the Daisy M. Skinner President's Chair in Cancer Immunology Research at the University of Texas, San Antonio's Long School of Medicine. He brings with him tremendous leadership experience, serving previously as chief of two different academic divisions, director of a Clinical Research Center and executive director of an NCI-designated cancer center.
He has conducted extensive research in human immunology seeking to understand the immunopathology of human disease. His most recent efforts have centered on understanding immune dysregulation in cancer leading to greater knowledge of cancer immunopathogenesis and enabling the development of novel and impactful therapies for cancer, infections and autoimmunity. Dr. Curiel's work has led to many studies investigating T cell populations in the tumor microenvironment. His group has been continuously funded by the National Institutes of Health since 1987.
Curiel graduated summa cum laude from the University of Georgia, and earned a medical degree from Duke University School of Medicine with election into Alpha Omega Alpha Honor Medical Society. He completed a residency in Internal Medicine at Yale Medical School and Yale-New Haven Hospital, post-doctoral fellowships in Medicine and Infectious Disease at Harvard Medical School and the Massachusetts General Hospital, a post-doctoral fellowship in Medical Oncology at the University of Colorado Health Sciences Center and his Master of Public Health from Harvard University.
NCCC Director Steven D. Leach, MD, shares "Tyler comes to NCCC with outstanding academic, research and leadership skills. I can't think of a better person to serve as our inaugural Gmelich Professor of Cancer Immunotherapy. His contributions will build upon the Cancer Center's long history of discovery and innovation in immunotherapy research. His role and work at Dartmouth will help pioneer new ways of activating the immune system against life-threatening diseases and will benefit cancer patients everywhere.  We are extremely excited about his arrival and also profoundly grateful to the Gmelich family for their generous support of his Professorship."
We will welcome Curiel and his spouse Ruth Berggren, MD, to the Dartmouth community in late March.