By

Lara K. Stahler

Photography by

Mark Washburn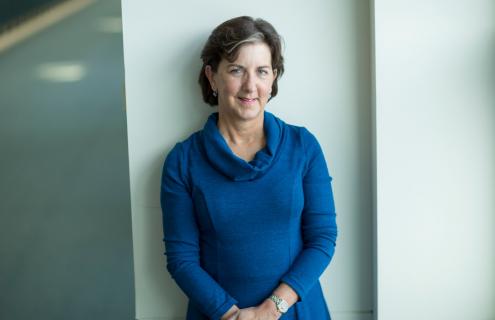 It was about 18 months before I came back to wholeness, and now I feel better than I've felt in five years.
Anne Holmes, Newbury, NH
Newbury, NH resident, Anne Holmes, had been managing chronic leukemia due to a defective gene for many years. In 2014, dysfunctional bone marrow quickly escalated symptoms of myelofibrosis, a cancer that affects blood-forming tissues. Opting for a treatment regimen that fit her needs and a closer commute for weekly appointments, Holmes chose the Blood and Marrow Transplant Program at Dartmouth-Hitchcock Norris Cotton Cancer Center (NCCC).
The Perfect Match
Holmes required a stem cell transplant from a donor with a genetically identical immune system. The best chance of finding a "ten-point" match is through blood relatives who share a person's DNA. "Two of my sisters tested negative," Holmes says. "And there was a small chance of anybody in the online universal donor bank being a match. So it was coming down to my third sister, Katie, who had not yet been tested," says Holmes. "It was quite shocking, but I came back as a ten-point match," says Katie, an Indianapolis, IN resident.
"Patients under 55 statistically have the best results for this type of transplant.  Anne was 54," says Katie. "We're grateful that I was allowed to donate because on paper, the outcome didn't look so good," she says. Adds Holmes, "Statistically, Dr. Gautier estimated that I had about three years to live without a transplant. When we found out Katie was a match we couldn't believe it. We did our research and in the end chose Dr. (Christopher) Lowrey at NCCC for a lot of reasons."
Katie started on medication that forced her stem cells from her bone marrow into her bloodstream. "It's not easy but it wasn't difficult," explains Katie. "The staff at NCCC told me exactly what to expect and protected my rights and privacy as the donor. They talked to me alone to make sure I wasn't being pressured. I said, 'I'm the youngest of four girls, my sisters have pressured me all my life!'" Katie jokes. "I didn't say that. But they were very respectful about my involvement."
Sister to Sister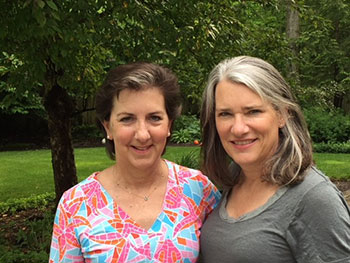 Stem cell donation entailed a two-day apheresis blood draw from Katie's arm. The blood flows through an instrument that separates and collects the stem cells, and returns the remaining blood components back into Katie's body. By then, Holmes had already undergone chemotherapy treatments to break down her own immune system and prepare it to receive her sister's stem cells.
"Before I went into transplant, the house had to be cleaned including carpets and dry cleaning curtains. I had strict dietary restrictions. People weren't allowed to send plants or flowers," explains Holmes. "NCCC gave her the detailed, comprehensive infection control guidance, right down to reminding her that she wasn't allowed to pet the dog. Anne educated everyone and we all took our marching orders," adds Katie. "That was critical. If someone didn't take those guidelines seriously and Anne got an infection, it could be fatal."
Back to Wholeness
Holme's recovery was up and down. "Some days were good, some days I couldn't get off the couch," she recalls. "Some days I had to come in for blood transfusions because I wasn't making enough red blood cells. When I came off my anti-rejection drugs I developed graft versus host disease (which occurs when the donor immune system attacks the recipient's tissues). Initially, I was in the hospital for 25 days, but really had a year and a half of my new immune system building strength. Dr. Lowrey would always say, 'Anne, I'm here for you.' If I had a question he would always call or email me back the same day. They had their eyes on me the entire time. It was about 18 months before I came back to wholeness, and now I feel better than I've felt in five years."
Katie describes her recovery from stem cell donation as much less intense. "It was minor. Even taking the medication and sitting there for several hours over two days was mild discomfort but that was it. I was instructed to not exercise for a week and to take it easy."
The family still managed to make the most of their difficult experience. "My husband raced Katie through the hallway in the wheelchair one day and they laughed the whole time," recalls Holmes. "And we decorated my i.v. pole while I was an inpatient—we named him 'Slim.' Our sister, Molly, left her family for five weeks to take care of me at home after I was discharged. We referred to Molly as 'Nurse Ratched' because she was so strict about all the guidelines. But we had fun watching movies and our favorite TV event, the Westminster Dog Show. We still talk about these moments."
A Silver Lining
The sisters have a unique twist to their story. Holmes' hair grew back in her natural brunette color after chemotherapy. All except for one streak right in the front. "I noticed this silver streak coming in," she says. "Katie had the same thing, which our other sisters and mother do not. I showed Dr. Lowrey and asked if it was possible that I could have inherited this streak from Katie and he said that it could be! I thought that was really cool. Not that I forget for a minute what we've been through as a family, but I see my streak as a 'badge of honor' now."
The sisters advise others going through similar experiences to be informed and have a positive attitude. "You have faith and you control what you can," says Katie. "Anne was determined and we formed an incredibly effective partnership with the talented staff at NCCC." Adds Holmes,"I don't know how people do this without the support that I had in my family and friends. Don't panic. Gather the facts. Sit down with your doctor and nurses and ask them to explain things. The staff at NCCC was wonderful and we're very grateful."