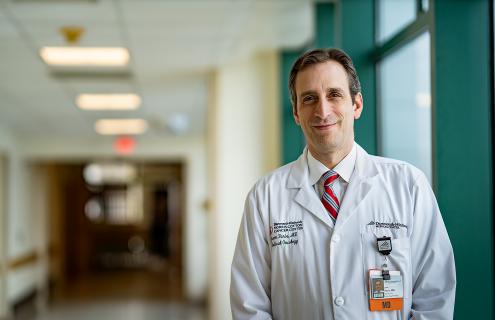 There are three main categories of clinical trials classified as Phase I through III, as a drug candidate progresses through testing.
Jason Faris, MD
Q: What is an early-phase clinical trial? How is it different than a later-phase trial?
Faris: Phases I and II clinical trials are what we refer to as "early-phase trials." To take a step back, there are three main categories of clinical trials classified as Phase I through III, as a drug progresses from early phase testing to late phase testing.  
Phase I trials are first-in-human studies. They are designed to determine the safety of a novel (new) drug or therapeutic or a new combination of therapeutics. Phase I trials evaluate the ideal schedule (how often a drug is given) and dose, and characterize a safety profile. There is generally an additional secondary or exploratory goal, which is detecting an early signal that a drug may be effective in patients.  
A Phase II trial's primary focus is whether and how well a drug works. Phase II trials occur after a Phase I study, or in some cases, there are trials that put a Phase I and Phase II study together (a Phase I/II study). From the Phase I component, the recommended dose and schedule is determined, along with the preliminary safety profile. The main goal of a Phase II study, or the Phase II portion of a Phase I/II trial is generally to evaluate whether the novel drug or combination is effective. In cancer patients, that may mean measuring whether tumors are reduced in size, or whether the drugs can prolong the time before the cancer progresses.
These "early phase" Phase I and II studies are distinct from a later stage trial, called Phase III studies. Phase III studies involve larger numbers of patients and are usually randomized. They are for evaluating a drug or combination that has shown promise in a Phase I and II setting against a standard treatment. The hope is to find a statistically significant improvement in overall survival, progression-free survival or other metrics that reveal the drug is working. These metrics also allow the FDA (US Food and Drug Administration) to assess whether a drug is working and is safe, so it could potentially be approved for patient use. 

Jason Faris, MD, is the director of the Early-Phase Trials Program, member of the Cancer Biology and Therapeutics Research Program, and a practicing medical oncologist in the Gastrointestinal Oncology Program at Dartmouth's and Dartmouth-Hitchcock's Norris Cotton Cancer Center, focusing on pancreatic, colorectal and hepatobiliary cancers. He is also an assistant professor of Medicine at the Geisel School of Medicine at Dartmouth. His research interests include the discovery and evaluation of new therapeutics for patients with cancer.