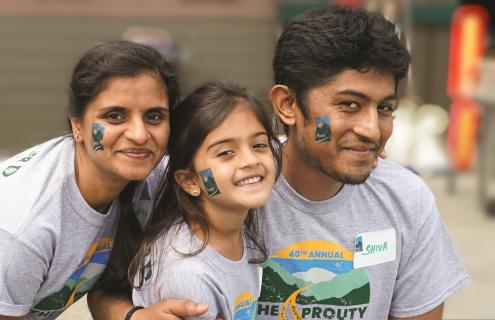 Despite limited in-person action due to COVID-19 safety precautions, the 40th annual Prouty in July 2021 still generated a record-breaking $4M as volunteers and athletes from around the country with special ties to Dartmouth's and Dartmouth-Hitchcock's Norris Cotton Cancer Center (NCCC) rose to the occasion. Last year's event was also the first led by new Friends of NCCC Executive Director Jaclynn Rodriguez.
"The Prouty illustrates the passionate dedication and steadfast commitment of so many participants, volunteers, corporate partners and donors to make a difference for cancer patients and their families. I'm truly honored to be a part of it," says Rodriguez.
But where does that money go? As NCCC celebrates its 50th anniversary, scientists are busier than ever, discovering new knowledge about how cancer works and innovating novel diagnostic, treatment and prevention strategies and technology for patients. Here are the newest projects off the ground thanks to vital Prouty Pilot funding:
More options for early-stage thyroid cancer
Thyroid cancer is commonly diagnosed but often not problematic. However, current approaches to management still prioritize immediate biopsy and surgery to remove thyroid nodules suspicious for cancer.
Louise Davies MD, MS, and Tor D. Tosteson, ScD, are studying less invasive approaches to managing thyroid nodules suspicious for cancer. Their pilot study will lay the groundwork for the Thyroid Active Monitoring and Intervention Longitudinal (TRAIL) Study—the first large, national clinical trial of active monitoring for newly identified thyroid tumors.
"While current approaches are intended to identify and remove all thyroid cancer, sometimes surgery might not have been necessary," says Davies. "This project will create evidence about active monitoring as an alternative approach, and will allow patients to make choices that align with their values and priorities."
Stimulating anti-tumor immune responses
Immunology and cancer immunotherapy scientists Steven N. Fiering, PhD, and Randolph J. Noelle, PhD, are generating immune-stimulating molecules directly in treated tumors to shrink them. They will then measure the tumors at the highest resolution to see how the treatments change the anti-tumor immune response.
"Generating proteins in tumors to produce immune-stimulating molecules is a rapid, inexpensive, flexible and clinically feasible approach to treat cancer. The molecules induce robust anti-tumor immune responses at the tumor site and throughout the body," says Fiering.
Editing genes to disrupt a cancer-causing virus
Merkel cell carcinoma (MCC) is a serious but rare skin cancer that grows and spreads aggressively when the Merkel cell polyoma virus (MCPyV) invades DNA of skin cells. Despite recent improvements in MCC therapy, no treatments exist that directly target the underlying virus that fuels it.
In their Prouty Pilot, Matthew S. Hayden, MD, PhD, and team are developing cutting-edge genetic engineering technologies that could delete MCPyV and improve MCC treatment.
"We are working to improve our understanding of the MCPyV genome using new insight to develop highly targeted gene editing tools that can delete MCPyV from the genome of MCC cells. We'll then test several methods to determine the best means of applying these gene editing tools to MCC cells," says Hayden.
Targeting PP1 for anti-cancer therapy
Until recently, a phosphatase enzyme called PP1—a key player in helping cells function normally—has been considered undruggable when these normal functions become disrupted during the development, progression and spread of cancer.
Cancer mechanism researchers Arminja N. Kettenbach, PhD, and Scott A. Gerber, PhD, are innovating new strategies for targeting recently discovered and very specific features of PP1 involved in signaling in non-small cell lung cancer cell lines.
"Targeting phosphatases is just emerging as a promising strategy. But first, we need to identify direct PP1 substrates," says Kettenbach. "We need a better understanding of PP1-dependent signaling processes in order to target them in the development of new anti-cancer therapies."
Reducing toxicity with FLASH radiation
Recent discoveries show that radiation delivered at a very high dose rate treats tumors but with much less, if any, damage to the normal healthy tissue. This is known as the FLASH effect.
With a better understanding of FLASH, we could improve current deliveries to a safer, less-toxic and potentially more effective mode, having a tremendous impact on patients' length and quality of life.

Chun-Chieh Lin, MD, PhD
Chun-Chieh Lin, MD, PhD, with mentors Brian W. Pogue, PhD, and Jack Hoopes, DVM, PhD, are diving into the basic epigenetic mechanisms of how normal and tumor cells react to FLASH. They expect to find altered gene expression that could explain the chronic toxicities caused by standard radiation therapy, whereas FLASH-radiated normal tissue would not have this altered gene expression.
"Radiation therapy regimens are often put on hold due to toxicity to the patient's normal tissue. With a better understanding of FLASH, we could improve current deliveries to a safer, less-toxic and potentially more effective mode, having a tremendous impact on patients' length and quality of life," says Lin.
Understanding meningioma invasion
Lin's work does not end with FLASH. He, and co-Principal Investigator George J. Zanazzi, MD, PhD, will use a new technique called digital spatial profiling to identify biomarkers of invasive meningioma, the most common central nervous system tumor. The technique will allow them to determine the expression of proteins and RNA in meningioma tumor cells that have invaded the brain. These key biomarkers would serve as targets for new treatments and could be used to diagnose invasive meningioma by cerebrospinal fluid.
"There is a high incidence of central nervous system tumors in New Hampshire and Vermont. We are using new techniques to understand these tumors better and to come up with new treatments and diagnostic methods," says Zanazzi.
Evaluating high-pressure oxygen on bladder inflammation
Some patients who receive radiation therapy for cancer of the prostate or cervix develop persistent bladder inflammation called radiation cystitis. Hyperbaric (high-pressure) oxygen therapy is one of few non-invasive treatments thought to preserve bladder function. But it does not work for everyone and little is known about its mechanism of action.
Rachel A. Moses, MD, MPH, Bassem I. Zaki, MD, and Jay C. Buckey, Jr., MD, will study inflammatory urinary biomarkers in patients with radiation before and after hyperbaric oxygen therapy to learn whether the therapy reduces inflammation.
"Knowing whether and why high-pressure oxygen can provide relief in patients with severe radiation-induced bladder inflammation will further our understanding of radiation cystitis treatment and improve post-cancer treatment for those with this debilitating disease," says Moses.
Improving early lung cancer diagnosis
Chest CT scans done for any reason can sometimes turn up suspicious nodules in the lungs. The often-recommended approach of active monitoring can prolong diagnosis and treatment of potential lung cancer, which can directly affect outcomes.
Ethan K. Murphy, PhD, with mentor Ryan Halter, PhD, are devising better methods for early diagnosis of lung nodules by non-invasively imaging the electrical properties of tissue and pairing this data with a CT scan.
"This non-invasive, low-cost, non-ionizing technology could be collected after any indeterminate lung nodule is found via CT," says Murphy. "The data provided could mean a much earlier diagnosis and getting patients into treatment sooner, or fewer unnecessary scans and invasive procedures in the event the nodules are not cancerous."
Tricking anti-viral immune cells to treat brain tumors
Certain immune cells have memory for viruses we've had, such as flu or mono. In healthy tissues, these memory T cells protect us against reinfection. Researchers have recently discovered that these cells also reside within tumors. Brain tumors, however, are notoriously good at suppressing immune response, enabling the cancer to grow.
Now, Pamela C. Rosato, PhD, and mentor Mary Jo Turk, PhD, are working to trick memory T cells in stubborn brain tumors into thinking there is a viral reinfection, which would activate the immune system and overcome any immune suppression the tumor has created.
"This is a novel approach for cancer immunotherapy that would repurpose a patient's own virus-specific memory immune cells in a glioblastoma anti-tumor immune response," says Rosato.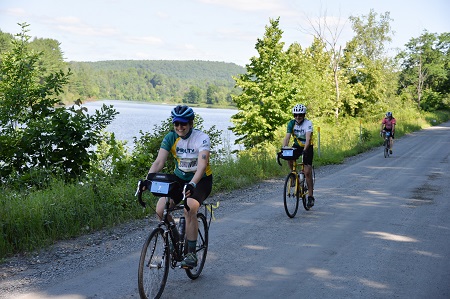 The 41st annual Prouty will take place on July 8-9, 2022. For more information on the many ways you can get involved or donate to cancer research, please visit TheProuty.org.