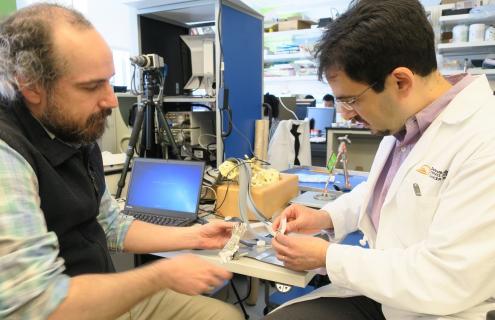 With funding from The Prouty, we've been able to lay the groundwork for developing the necessary technology to hopefully make image guidance for throat cancer surgery a reality.
Joseph Paydarfar, MD
The 36th annual Prouty was not without challenges! Despite the weather, last-minute rerouting, and a brief huddle in the auditorium during a thunderstorm, the event still managed to raise more than $3.1 million for cancer research and support services for cancer patients. But what does "cancer research" mean? For the latest research projects underway thanks to money raised by Prouty participants, it means improving accuracy in throat cancer surgery, designing drugs to prevent cancer metastasis (spreading), studying the dangers of e-cigarette advertising, and more.
Improving outcomes in throat cancer surgery
Despite recent advancements, surgical treatment of throat cancer continues to result in significant functional and cosmetic changes that affect quality of life. Minimally invasive robotic surgery has reduced complications, but it still has its challenges. Instruments needed to access the throat during surgery cause soft tissues and airways to change shape, thus making images taken before surgery unusable. Principal investigators Joseph Paydarfar, MD, and Ryan Halter, PhD, aim to develop an image-guided surgical navigation system. "With funding from The Prouty we have been able to lay the groundwork for developing the necessary technology to hopefully make surgical image guidance a reality," says Paydarfar. That technology includes a laryngoscopy system that is CT- and MRI-compatible. The system allows surgeons to more effectively monitor the soft tissue distortion that occurs during surgery. This knowledge will help engineers develop models that can predict soft-tissue distortion and assist surgeons during treatment, ultimately reducing throat surgery complications and improving safety and outcomes.
Revealing risk factors for second cancers after keratinocyte cancer
Some cancer risk factors, like genetic predisposition, can't be changed—but others, like smoking and nutrition, can. Jiang Gui, PhD, and Judy Rees, PhD, are collecting large population-based data that will help to reveal the risk of second cancers and death after keratinocyte cancer (non-melanoma skin cancer). "Identifying controllable risk factors could lead to both a better understanding of what causes multiple malignancy, and strategies to reduce risk," say Jiang and Rees. "Our Prouty Pilot funding will generate a database that will serve as a rich resource for future research, and allow us to write two grants that will be based on the new database."
Interrupting tumor progression and the spread of cancer
Researchers Diwakar Pattabiraman, PhD, and Dale Mierke, PhD, are working to understand the mechanisms by which cancer cells are able metastasize (spread to other parts of the body). They will combine this knowledge with their expertise in chemistry to design new drugs that could inhibit the progression of tumors. "Two proteins in particular are well-known players in the progression of carcinomas and have key roles in metastasis. In this Prouty-funded project, we are attempting to design inhibitors that will disrupt the interaction between these two proteins," says Pattabiraman. "If our drug candidates show promise, we would aim to test them in experimental models for a wide variety of cancer types."
The concern about e-cigarettes
Tobacco use is the leading cause of preventable cancer and cancer deaths. Researchers worry that because of advertising and of similarities in both form and function, e-cigarettes may promote use of traditional cigarettes among adolescents and young adults. Diane Gilbert-Diamond, ScD, and James Sargent, MD, are trying to understand how exposure to socially desirable advertising for e-cigarettes may encourage this transition. "Young adult never-smokers are now being exposed to an ever-increasing number of e-cigarette advertisements, potentially increasing their risk for initiation of smoking," says Gilbert-Diamond. "Understanding the effects of e-cigarette marketing is critical in preventing and reducing tobacco-related cancers and deaths."
Blocking a tumor-growing protein
Radu Stan, MD, PhD, and Steven Fiering, PhD, are studying how a tumor blood vessel surface protein contributes to tumor growth, with the hopes of creating new anti-cancer therapies that could inhibit the protein's function. "We have found that inhibition of the protein's function either by blockage with antibodies or gene deletion, slows down tumor growth by enhancing an immune response," says Stan. "We think this blockage allows for either an increase in the variety of immune cells killing the tumor, or disruption of tumor-caused immune suppression, thereby giving the immune system the upper hand in fighting the tumor."
How do hormones affect uterine cancer?
Projections suggest that the incidence of endometrial cancer, currently the fourth most common cancer in women in the USA, will increase over the next decade. The research team of Charles Wira, PhD, is defining the underlying mechanisms and hormones in the uterus that enable cancer cells to gain a foothold and cause disease. "These studies should provide a foundation for controlling and/or eliminating endometrial cancers by enhancing the effectiveness of existing immunotherapies," says Wira. "Our findings are particularly relevant to recurrent and metastatic tumors for which current therapeutic options are limited. Our findings will aid in the development of new therapeutic approaches that will be effective should surgery be unsuccessful."
The 37th annual Prouty will take place on July 13–14, 2018. To learn more about ways to Prouty, or to donate to cancer research and patient support services, please visit TheProuty.org