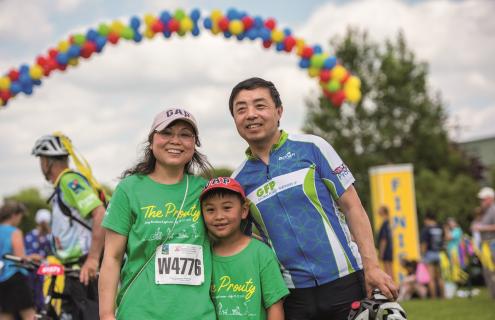 This project will allow us to understand how cells in solid cancers like melanoma communicate with each other and the result of that communication.
Rob Frost, PhD
Thanks to the efforts of more than 4,400 registrants from 45 states and 4 countries, 1,000 volunteers and more than 250 regional businesses, the 38th annual Prouty earned a record-breaking $3.4M to benefit Dartmouth's and Dartmouth-Hitchcock's Norris Cotton Cancer Center (NCCC). Here are the latest Prouty-funded research projects underway by NCCC scientists.
Using machine learning to identify risk of cervical cancer 
The research team led by Jessica Dillon, MD, Louis Vaickus, MD, PhD, and Gregory Tsongalis, PhD, is looking to improve early detection of cervical cancer in countries with limited resources by designing a method for identifying women at highest risk. Being able to assign a degree of urgency at the time of screening would mean more immediate treatment and losing fewer patients to follow-up. It would also mean eventually decreasing the development of cervical cancer overall. "Our technique will incorporate proven methods for detecting cervical lesions, such as pap smears, biopsies of the cervix and assessment of HPV status, with a computational algorithm that uses deep learning to digitally analyze images," says Dillon. "These components will be used to teach a neural network to establish an algorithm that classifies women into high- and low-risk categories. Women at high risk would benefit from immediate treatment."
Improving risk prediction for lung cancer patients
Lack of agreement on what increases risk of disease returning among early stage non-small cell lung cancer (NSCLC) patients creates a barrier to applying precision medicine strategies. Erica Moen, PhD, MS, aims to identify sub-groups of patients with early stage NSCLC who have similar risk of disease recurrence based on factors measured at the time of diagnosis and during treatment. Her team will use statistical tools from the latest advances network medicine to develop a method for integrating diverse data types in risk prediction models. "Risk stratification for disease recurrence among early stage NSCLC patients could be improved by better integration of sociodemographic, clinical, genetic, and other data using a network medicine approach," says Moen. "Our findings could lead to improved risk prediction, which would allow patients and physicians to tailor individual treatment decisions and optimize patient outcomes."
Understanding how breast cancer drugs work to curb disease progression
Eribulin is a third-line therapy given to patients that have advanced or metastatic breast cancer that has developed resistance to other chemotherapy treatments. It has been shown to help prevent tumors from spreading and improve sensitivity to chemotherapy. But the mechanism it uses to do that is still unknown. Diwakar Pattabiraman, PhD, and Scott Gerber, PhD, are trying to identify the targets of eribulin. "Identifying direct targets of the drug will help us understand how it works to halt breast tumor progression and reveal why breast tumors develop resistance to the drug," says Pattabiraman. "We'll do this by measuring the altered thermal stability of proteins in a temperature gradient. Proteins that the drug binds to will have an altered stability." These findings will hopefully lead to new strategies for preventing therapeutic resistance.
Helping T cells survive
T cells help the body mount an immune response against cancer. However T cells do not survive long, which can limit their effectiveness. Edward Usherwood, PhD, and Charles Sentman, PhD, are looking for the ideal metabolic status of the T cell for protecting against tumors that form as a result of chronic virus infection. "In this context, we think T cells will be more dependent upon glycolysis, and less on mitochondrial respiration," says Usherwood. "We'll engineer T-cell metabolism to favor either glycolysis or mitochondrial respiration. Survival of the T cells over time will be tested, together with protection against tumor growth. When we understand the best metabolic state of the T cell for protection against tumors, we can then engineer T cells to enhance this type of metabolism. Doing so will likely expand the types of cancers that are treatable by adoptive T-cell therapy."
Examining how doctor emotion influences serious illness conversations
Evidence shows that many patients receive cancer treatment and end-of-life care that is not in line with their preferences. The question that Garrett Wasp, MD, is trying to answer is: what impact does clinician emotion have on discussions with patients around outcomes and treatment preferences? "We're developing strategies to better understand how emotion impacts patient–clinician communication and decision-making," says Wasp. This pilot project will help Wasp's team to better characterize physician emotion regulation skills and strategies during serious illness conversations. They will evaluate the quality of biometric data gathered in a simulated outpatient visit by having clinicians wear heart rate sensors (wrist vs. arm band). Connections between data changes and emotionally intensive events in the conversation can provide practically useful insight into improving communication. "The end goal is to have more patients with advanced cancer receive care that is aligned to their preferences and priorities," says Wasp.
Detecting spread of cancer without surgery
When cancer spreads, many types will first spread to lymph nodes. Currently, the only way to detect lymph node involvement is to surgically remove several lymph nodes and test them. But this method introduces its own complications. Researchers Geoffrey Luke, PhD, and Jack Hoopes, DVM, PhD, are combining ultrasound imaging, nanotechnology and immune biology for early detection of the cancer metastases (spread). They are designing a new ultrasound imaging probe that can detect lymph node metastases without surgery. "The method relies on a new type of nanoparticle contrast agent specifically targeted to the tumor cells," says Luke. "We think we'll be able to detect small pockets of tumor cells with accuracy similar to or better than the surgical procedure. Not only will this method be safer because it doesn't disrupt the lymph node environment, it will expand the tissue volume being sampled and reduce the chance of tumor cell escape and entry into the circulation. If successful, we expect to achieve more sensitive and earlier detection of lymph node metastasis without the challenges and complications of surgical removal."
Eavesdropping on immune cells in the tumor
The response rate to cancer immunotherapies continues to improve. Further advancements require a better understanding of how these therapies act on individual cells within the tumor and how these cells talk to each other and cooperate to mount a coordinated attack against cancer cells. Rob Frost, PhD, and Yina Huang, PhD, are exploring the use of a novel experimental technique for studying gene expression in single cells. The method will allow them to characterize physical interactions between immune cells within the tumor microenvironment. In other words, they can "listen in" on conversations between individual immune cells in a tumor. "This project will allow us to understand how cells in solid cancers like melanoma communicate with each other and the result of that communication," says Frost. "We'll learn about cooperation of immune cells to enhance a tumor-killing response, and of immunosuppressive cells to prevent an anti-tumor response, as well as what the effects of immune cells are on the tumor itself."
The 39th annual Prouty will take place on July 11, 2020. To learn how you can contribute to cancer research like these studies, please visit www.TheProuty.org.