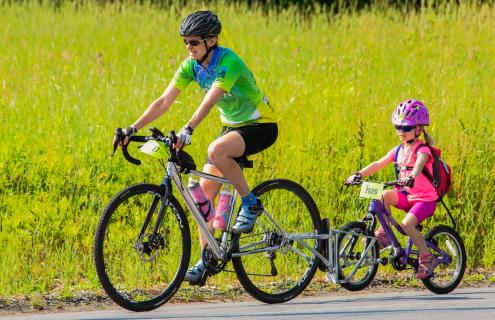 Uncovering the dynamics behind resistance to breast cancer therapy at single-cell resolution could help tailor more effective treatment strategies in the future.
Diwakar Pattabiraman, PhD
Combining high-dose radiation therapy with immunotherapy to treat cancer, resolving employment challenges among cancer survivors, and mobilizing tiny molecular machines in our cells: are just some of the newest research projects funded by The Prouty, northern New England's largest family-friendly fundraising event. Proceeds from The Prouty go directly to innovative cancer research and vital patient support services at Dartmouth-Hitchcock's Norris Cotton Cancer Center (NCCC).
Image of healthcare delivery
Similar to how a brain image allows us to visualize a patient's brain, Inas Khayal, PhD, and Amber E. Barnato, MD, MPH, MS, are developing images to visualize health care delivery that will help identify disparities in end-of-life cancer care.
The team used a novel systems engineering method to develop images of cancer care delivery within health care systems. They will apply machine learning techniques to classify patterns in patient images. When combined into groups based on age, gender, race and geography, images can be used to identify any differences in patterns that may suggest health disparities.
"These detailed health care delivery images allow us to 'see' what was delivered, by whom, where and when during the last few months of life for a patient with cancer. They will also allow us to find patterns related to health disparities and devise strategies to alleviate these disparities, ensuring all patients receive the highest quality cancer care possible," says Khayal.
The cells that drive breast cancer treatment resistance
Cancer researchers Diwakar R. Pattabiraman, PhD, and Aaron McKenna, PhD, are trying to understand how resistance to therapy emerges from single tumor cells within breast cancer. "While the primary mode of resistance remains the selection of pre-existing resistant cells, we propose that some treatments may lead to changes in cancer cells themselves that alter their sensitivity to therapy," says Pattabiraman.
The team will trace cell lineage using inherited DNA alterations to track breast cancer cells as they change over the course of therapy with different chemotherapy drugs. Tracking cell alteration will allow the team to identify tumor cells that serve as the origins of therapy resistance, and discover how these cells evolve under the pressures of treatment. "Uncovering the dynamics behind resistance to breast cancer therapy at single-cell resolution could help tailor more effective treatment strategies in the future," says Pattabiraman.
Helping cancer survivors back to work
Many cancer survivors struggle to maintain employment during and after cancer treatment. A research team led by Kathleen Lyons, ScD, and Jonathan D. Lichtenstein, PsyD, MBA, will use their Prouty funding to work directly with cancer survivors and employers. The team will develop interventions and programs that can help cancer survivors thrive at work, and help employers support their workers who are undergoing cancer treatment.
The team will interview cancer survivors, employers, and healthcare providers in the local community about their experiences and challenges with working during or after cancer treatment, and talk about suggested solutions. Findings will be shared with experts to identify potential interventions, and brought back to participants for feedback that will guide next steps.
"This is the first step in a program of research where we will develop, test, and deploy interventions that support employment of cancer survivors," says Lyons.
A promising duo
NCCC researchers are testing a new type of radiation therapy (RT) called FLASH, alone and in combination with immunotherapy. The extremely rapid FLASH RT delivery of dose shows great promise in reducing normal tissue side effects of radiation therapy, allowing increased tumor dose and cure potential. "Early experiments using these techniques have shown not only more effective local tumor control, but the potential for generating systemic cancer therapy from local tumor treatment," says co-Principal Investigator, P. Jack Hoopes, DVM, PhD.
The study is being conducted on the world's first FLASH-enabled medical linear accelerator. This reversible conversion between FLASH and conventional radiation therapy was performed and tested by Dartmouth physicists, engineers, biologists and oncologists using physics phantoms, cultured cancer cells, mouse models and the curative-intent treatment of community dogs with treatment-resistant spontaneous cancers.
Tiny machines in our cells
Damage to DNA protective structures called telomeres leads to genome instability, a hallmark of many cancers. Giovanni Bosco, PhD, and Scott A. Gerber, PhD, have discovered that tiny molecular machines called condensins can protect telomeres. Now they look to solving how these tiny machines work.
"We predict that condensins find telomeres by forming close interactions with other proteins that recognize telomeres' unique DNA sequence," says Bosco. "We think condensins use their machine-like qualities to fold telomere DNA, creating structures that are resistant to damaging agents within the cell." The team will use Gerber's method known as AQUA to see if variants in condensin molecules cause abnormal machine complexes to form, thus failing to protect telomeres.
A better understanding of initial events that drive the transition of normal cells into cancer cells will be important in learning who may be prone to developing cancer, and whether certain tumors will become resistant to chemotherapy drugs.
The Prouty turns 40
Registration for the 40th annual Prouty is now open. "We are excited to launch the 40th Prouty and look forward to celebrating this milestone year with our community," says Steven D. Leach, MD, director of NCCC. "The Prouty makes a tremendous impact. Because of the funds raised through The Prouty, we are providing stellar care directly to our community and fueling knowledge for the world."
To honor the 40th year, The Prouty will take place for 40 days between June 1 and July 10, 2021. Virtual participants can Prouty anywhere, in any way, at any time and can join teams or create their own team. 
For event updates and to register, visit: www.theprouty.org.