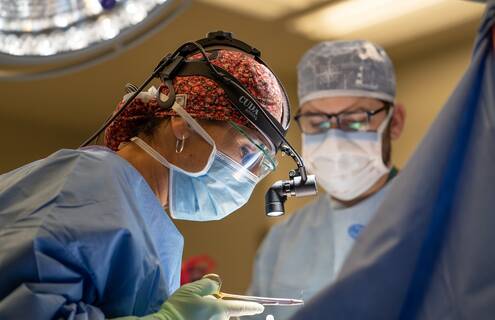 "Breast cancer research" delivers treatments to patients. But what does research mean and who is doing it? As an NCI-designated Comprehensive Cancer Center, Dartmouth Cancer Center is home to a robust network of laboratory scientists who are sorting out how cancer works down to the tiniest cellular details. From there, clinician scientists lead the clinical trials phase. Under the strictest levels of scrutiny, trials ensure the safety and effectiveness of the most promising drug candidates, surgical techniques, prevention strategies and more. Here are just a few of the many breast cancer research projects happening at Dartmouth Cancer Center today.
From the lab to the clinic
Advanced estrogen receptor-positive (ER+) breast cancer can be especially difficult to treat, as most tumors will develop resistance to endocrine (hormone) therapy over time. A recent study led by researcher Todd W. Miller, PhD, shows promise in a new combination of estrogen and a drug called a PARP inhibitor to treat this type of cancer. Miller's team found that estrogen can cause damage to cancer cells by re-engaging the estrogen receptor in the cells. This damage can be enhanced by using a PARP inhibitor, which prevents the cancer cells from repairing their own DNA. The combination has also been shown to be effective in treating advanced ER+ breast cancer regardless of whether the patient has a BRCA1 or BRCA2 genetic mutation.
If upcoming clinical trials deliver the results that Miller's team is expecting, the approach could provide a new option for patients with advanced ER+ breast cancer.
The results are in
The estrogen + PARP inhibitor study comes on the heels of another clinical trial for ER+ breast cancer recently completed by the Miller lab with breast medical oncologist Gary N. Schwartz, MD. ER+ breast cancer is commonly treated with drugs that block the estrogen receptor. However, estrogens that stimulate the receptor can also be effective. Building on their previous studies, Miller and Schwartz aimed to test the efficacy of alternating between estrogen stimulation and estrogen deprivation in patients with metastatic (advanced) ER+ breast cancer, and to identify tumor characteristics that predict who might benefit from this strategy.
Forty-two percent of the patients enrolled in the trial experienced tumor shrinkage during cyclical treatment or disease stabilization for at least 24 weeks. Treatments were well tolerated, and none of the patients discontinued drug treatment due to side effects. Such results support cyclical estrogen/anti-estrogen therapy as a potential strategy to treat metastatic ER+ breast cancer.
Zeroing in on copper
Another type of breast cancer is called estrogen receptor-negative (ER-). If the cells are also missing the progesterone and HER2 receptors, the cancer is called "triple negative." Triple-negative breast cancer is challenging to treat as it lacks features that can be targeted with available drugs.
Breast medical oncologist Linda Vahdat, MD, brings an impressive background in studying the body's utilization of copper to mobilize the cells that allow cancer to spread. In previous work, she found that an anti-copper drug compound called tetrathiomolybdate (TM) keeps tumors that want to spread in a dormant state. A pilot trial Vahdat conducted at Cornell from 2007–2020 showed that if patients at high risk of recurrence with no current visible breast cancer were copper depleted, it resulted in a prolonged period of time with no cancer recurrence and no disruption to the function of normal cells.
Vahdat is now building on this discovery at Dartmouth Cancer Center. Clinical trials she is leading over the next five years will compare the safety and efficacy of investigational TM treatment to current standard-of-care treatments, hopefully opening much-needed new doors for this group of patients.
In the OR
Not all clinical trials are to test new drug therapies. A recent trial co-led by surgical oncologist Kari M. Rosenkranz, MD, offers patients with multiple breast tumors a safe new surgical option. The study showed that patients with two to three lesions in one breast who underwent breast-conserving lumpectomy followed by radiation had similar rates of local recurrence as patients who had a single lesion. These results mean that some patients with multiple sites of disease in the same breast may choose breast-conserving surgery instead of the historically recommended mastectomy (full breast removal).
Groundbreaking breast cancer research is happening in every corner of Dartmouth Cancer Center, bringing hope, new options and better outcomes to people living with breast cancer and their loved ones.