Featured Story
Section chief of radiation oncology, Charles R. Thomas, Jr., MD, looks to make mentorship a normal part of everyday practice.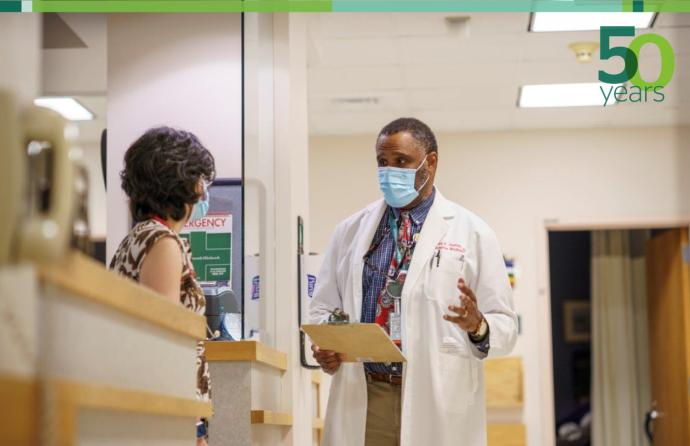 Experience the Dartmouth Cancer Center difference
Our patients consistently rank us in the top 99th percent of regional cancer centers and the top 98th percent nationally.
Our physicians specialize in treating different forms of cancer, but what they have in common is their commitment to providing the best care in the Northeast.
At Dartmouth Cancer Center, we don't treat a disease, we treat a person—a whole person. Our care team makes it easy to coordinate care, beyond just cancer treatment.
Making History 50 Years After Making History
2022 commemorates the 50th anniversary of Dartmouth Cancer Center opening its doors to patients in New Hampshire, made possible by funds secured through New Hampshire's then U.S. Sen. Norris Cotton's support of the National Cancer Act of 1971. Dartmouth Cancer Center has become a leader in cancer care and research, as one of the nation's 52 NCI-designated Comprehensive Cancer Centers—one of three in New England and the only one north of Boston.
Fifty years after making history, Dartmouth Cancer Center stamps another milestone in its great timeline with the dawning of The Byrne Family Cancer Research Institute at Dartmouth Cancer Center. The Byrne Institute will serve to strengthen Dartmouth Cancer Center's tightly knit collaborative research structure, weaving together bright minds from diverse specialties across Dartmouth and Dartmouth Hitchcock Medical Center and Clinics. The result? Delivering life-saving contributions to global cancer research and improving lives right here in the Upper Valley, across the nation, and around the world.