What's Happening at Norris Cotton Cancer Center
A wide variety of volunteer opportunities support Norris Cotton Cancer Center's goal of providing patient- and family-centered care. 
We offer positions in clinical care, research, and administration, along with training programs for graduate students and postdoctoral fellows. 
Norris Cotton Cancer Center offers events for patients, families, and the community, along with support group meetings and fundraising events. 
Radiation Oncology Earns Top Scores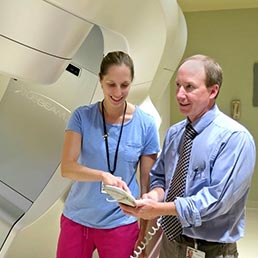 In a recent satisfaction survey, our patients' responses about the care they receive rank Radiation Oncology at the very top of national and regional cancer centers. The survey scores place Radiation Oncology at the 99th percentile in rankings of New England cancer centers, and in the 98th percentile nationwide. In addition, our Radiation Therapy section ranked in the 99th percentile for 3 of the last 4 quarters in 2015-16. Congratulations to the entire team for this tremendous achievement, for their commitment to patient care and for continually striving to improve. Thanks also to our patients for taking part in our satisfaction surveys.