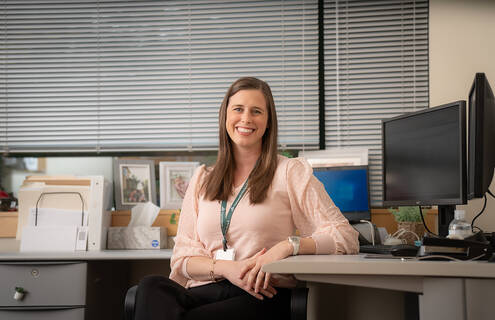 We work with clinics not only to provide navigation, but also to provide their staff with the tools and resources they need to help their patients get screened.
Jennifer A. Reichert, RN
The National Cancer Institute (NCI) recently highlighted a study about ways to increase cancer screening among women in rural areas where screening rates tend to be lower—but the need higher—than in urban areas. Of the different approaches tried, interactive patient navigation was found to be the most effective way to get rural women up to date on their screenings.
Patient navigation in our region  
While the NCI study enrolled women living in rural Indiana and Ohio, here at home, in 2009 the Centers for Disease Control (CDC)-funded New Hampshire Colorectal Cancer Screening Program (NHCRCSP), led by Principal Investigator Lynn F. Butterly, MD, FACG, developed a model using nurse navigators for colorectal cancer screening with colonoscopy. 
Patient outcomes with this model were so effective that CDC and the NHCRCSP developed and published a Replication Manual. This manual is available online to help other organizations trying to build similar navigation model for different types of medical care, and has been presented at many national meetings throughout the US. 
Patient navigation is defined as "individualized patient assistance to identify and then address barriers to screening. Navigation can increase completion of screening tests, which in turn leads to decreased colorectal cancer. The purpose of the NHCRCSP navigation model is to:
improve completion of colonoscopy and follow-up screening or other testing
increase patients' knowledge about their tests and results
improve overall quality of screening
ensure that patients receive appropriate testing when they are due for testing
increase patient satisfaction
Together with the CDC, the NHCRCSP has published two papers in the journal Cancer on increasing colorectal cancer screening for vulnerable (rural) populations in New Hampshire and elsewhere. One paper details the effectiveness of navigation in increasing screening. The other paper reports on the cost-effectiveness of navigation.
"We are very familiar with the benefits of navigation to assist patients with screening," says Jennifer A. Reichert, RN, Nurse Navigator with the NHCRCSP.  "We have partnered with several clinics in New Hampshire that are providing care to a mostly rural population." 
Reichert notes unique challenges to this group, such as long distances to locations that offer screening paired with lack of transportation. She also notes that navigation can greatly help with addressing and finding solutions to these barriers. "We work with clinics not only to provide navigation, but also to provide their staff with the tools and resources they need to help their patients get screened," she says.
Getting through
The NHCRCSP navigation model is done by telephone, so patients do not have to travel in order to be navigated. The navigator assists patients in completing all types of colorectal cancer screening tests, although patients usually need the most support in completing colonoscopies, especially the bowel preparation for colonoscopy. Therefore, the NHCRCSP has developed resources to assist both patients and providers in increasing high-quality testing. One such resource that has been very successful is Dr. Butterly's colonoscopy prep video, which provides "tips and tricks" to make the prep easier.
According to the CDC's Behavioral Risk Factor Surveillance System (a telephone survey), New Hampshire colorectal cancer screening rates are among the highest in the nation, in part due to public health programs such as the NHCRCSP. Since the program began in 2009, rates for colorectal cancer screening have gone up from 73 percent to 77.8 percent. The Department of Health and Human Services reports that rates of new colorectal cancers have fallen from 40.7 per 100,000 to 30.8 per 100,000. This decrease in colorectal cancer is largely due to the increase in screening. "The increase in screening rates is expected to be maintained or increase further as we mentor other clinics and staff on how to effectively navigate patients," says Reichert.
But the work is not done. The NHCRCSP follows a process of continuous quality improvement. "We're fortunate to have been extremely successful in New Hampshire and look forward to many more years of helping to prevent colorectal cancer," says Reichert.