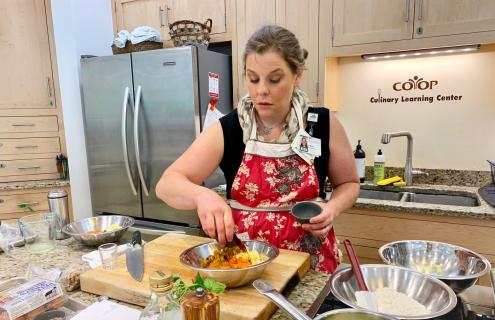 Consuming a plant-based diet takes a lot of guess work out of eating.
Elise Cushman, MS, RD, CSO, LD
Eating right is not only important during cancer treatment, but may also provide health benefits in preventing a number of cancers. Eating right doesn't mean giving up flavor. Elise Cushman, MS, RD, CSO, LD, an oncology dietitian at Norris Cotton Cancer Center (NCCC), provides seasonal cooking classes that show how to easily incorporate the season's freshest fruits and vegetables into recipes that are not only packed with cancer-fighting nutrients, but are also colorful, delicious and perfect for entertaining or a quiet meal at home. Her most recent class focused on harvest vegetables. "These recipes are flavorful and plant-based that anyone should enjoy," says Cushman. Learn why she chose these recipes (which are at the bottom) and the value that they offer.
Why did you choose these particular recipes?
Cushman: I look for recipes that are plant-based and use vegetables and fruits that are in season. These recipes use zucchini, carrots, beets and squash. People will often get stuck in ruts and use certain vegetables or fruits for the same recipes again and again. These ones are new and different, and also a great way to get people out of their comfort zone and wake up some taste buds!
Why did you choose these ingredients?
Cushman: The "Untomato Soup," I love tomatoes and tomato soup, but I have a family member who can't tolerate nightshade vegetables. This recipe made my mouth water from reading the ingredients.
For the zucchini pistou, I love pesto! I make it in big batches and freeze it in ice cube trays so I can enjoy that fresh basil flavor year-round. I also grow zucchini and was looking for something else I could sneak it into. This recipe was certainly a win­­–win on that and it freezes well too.
As a former pastry chef, I'm always looking for ways to incorporate more vegetables and fruit into sweet treats. The carrot-zucchini squares are a marriage of two great vegetables. Also, the sweetness of the golden raisins cuts the amount of sugar the original recipe and still makes a delicious treat! I also substituted half the flour in the original recipe with whole-wheat flour. Often, I will do this, and also throw some oats in the ratio.
Who can benefit from making these recipes and how do they benefit?
Cushman: Anyone can benefit from these recipes. They all make plenty of food and are freeze well for later.  Because these recipes are so full of flavor, they're great for anyone who may have taste issues that can often occur during or linger after chemotherapy.  For anyone experiencing mouth sores as a side effect of chemotherapy, I'd recommend leaving the lemon and vinegar out of the soup.
What does a "plant-based diet" mean? Are these recipes plant-based?
Cushman: A plant-based diet means the building blocks of what you are eating are just that: from plants that grow, which can mean vegetables, fruits and whole or minimally processed grains. Consuming a plant-based diet takes a lot of guess work out of eating. It means you are stepping away from processed foods and eating plenty of fruits, vegetables and whole grains. These recipes are full of vegetables, dairy-free and nightshade-free, as well as being plant-based.
Why did you choose vegetarian recipes? What are your thoughts on consuming meat, especially red meat?
Cushman: Many Americans do not meet the USDA minimum recommendation of consuming five fruits and vegetables a day, nor do they get adequate fiber intake. It's recommended to consume 25–30 grams of fiber per day. These recipes really help meet those nutritional needs. If I can help one person get their "five-a-day" in one meal, I feel great about that! And I hope they continue to eat more vegetables for the other two meals that day.
As for meat, the American Cancer Society and American Institute for Cancer Research recommend consuming 11 ounces of red meat or less per week to reduce risk of cancer and cancer recurrence. Red meats are beef, pork, lamb and goat. The red meat recommendations also include processed meats such as deli meats (salami, bacon, etc.), as well as game meats. I will say, however, that although game meats are considered red meat, they aren't necessarily studied like other red meats. Game meats are ideally organic and grass-fed, which lends a protein that's lower in fat and a good source of healthy omega-3. Red meat is fine to eat, but eat it as a treat. Mostly, choose lean, white meats such as poultry or fish. Also, let's not discount dairy, as it's also a great protein source.
What is one question you get asked a lot? How do you answer it?
Cushman: The sugar and cancer question is what I get a lot. It's not a simple answer. In short: sugar in its simplest form is glucose. Glucose is needed for every cell in the body, healthy and not. For a more scientific answer, I refer to a handout by the Oncology Nutrition Dietetic Practice Group of the Academy of Nutrition and Dietetics.  
What general advice can you offer to increase cancer-fighting foods in the diet?
Cushman: Not to over-analyze the answer. Author Michael Pollan said it best, "Eat food, mostly plants. Not too much." I'd have to say, to increase cancer-fighting foods in your diet emphasize the plant part of that. Also, taking another quote from Pollan, "If it has ingredients your grandmother couldn't pronounce, you'd be better off not eating it."
Why do you offer seasonal cooking demos?
Cushman: My background was in culinary arts, baking and pastry before I became a registered dietitian. Cooking demonstrations literally keep my hand in the pot or on the pan. I love sharing food and there is so much good tied into food and meal time.
People undergoing cancer treatment get disconnected from food due to side effects of treatment. It may take them an hour to eat bites. They get frustrated. Their caregivers try so hard to help them get in nutritious food. In cooking demonstrations, I get to help spark flavor onto palates that are bogged down in blandness and inspire people to turn to food to nourish their bodies again.
Recipes
Untomato Soup                                                                                                                                                            
Servings:  8+
Ingredients
2 tablespoon olive oil
1 medium yellow onion, chopped
8 garlic cloves, smashed and chopped
1 lb carrots, thinly cut
1 cup red wine (optional can use additional cup of stock, grape juice, or cranberry juice)
1 quart chicken or vegetable stock
2 cups of chopped, butternut squash, unpeeled (or 1 cup butternut/pumpkin squash puree)
2 medium (or 1 large) beets, sliced, boiled, drained, * save liquid for color (or 6 oz. canned beets with liquid)
¼ cup lemon juice
¼ cup red wine vinegar
1 tablespoon Italian seasoning
1 tablespoon dried basil
1 tsp salt
½ tsp black pepper
2 bay leaves
Instructions:
Add oil to heavy-bottomed Dutch oven over low-medium heat. Allow to heat then add onions and garlic.  Allow to caramelize or become golden and season with a pinch or two of salt.
Add carrots, butternut squash, red wine, and 3 cups of broth. Bring to a simmer and partially cover for 25 minutes.
Add cooked, sliced beets, lemon juice, red wine vinegar, Italian seasoning, dried basil, salt, and pepper.
Add in remaining 2 cups of broth and reserved beet liquid, if using, and bay leaves. Stir to combine. Cook until heated through. Discard bay leaves before blending.  Using a hand-held blender, blend until completely smooth. Can also use a blender.
Taste and season as needed.
Can top with drizzle of olive oil and dollop of yogurt, crème fraiche, or goat cheese.
Source: adapted from Meatified.com
Zucchini Pistou                                                                                                     
­­­­­­­­­­Yield: 2 cups of pistou, about 6 open face sandwiches
Serving size: 2 tablespoon servings
Ingredients
3 zucchini, depending on size)
6 tablespoons extra-virgin olive oil
2-3  cloves garlic, thinly sliced
¾ cup fresh basil leaves, plus more for garnish if desired
½ of one lemon, juiced (about 1 tablespoon)
kosher salt to taste
Goat cheese
6 slices of a thick crusty bread such as a Batard or use crackers such as Triscuit, Wasa or grain-free
1 large ripe tomato
1 avocado, sliced
Instructions:
Cut off the ends of the zucchini and halve the zucchini crosswise. Scoop out center; save for soups or baking (Freezes well!). Cut the zucchini into 1-inch pieces.
Combine the zucchini pieces with the olive oil and garlic in a small sauce pan and sauté over high heat. Add the basil leaves, stir, and cook for one minute. Add the lemon juice and salt. Pulse to a chunky purée with an immersion blender.
Spread batar with a thin layer of goat cheese. Then spread Pistou onto bread. Top with sliced tomato, avocado.  Garnish each open-faced sandwich with a pinch of salt and freshly ground black pepper.
* The pistou can be frozen in an airtight container for up to 3 months. Ice cube trays work great for freezing in perfect portions! Reheat in the microwave or on the stovetop until heated through and spreadable.
Source: inspired and adapted from Onceuponachef.com.
Carrot – Zucchini Cake Squares                                                                                                                                  
Serving size: 24, 1 inch X 1 inch squares
Ingredients
¾  cups all-purpose flour
¾ cup whole wheat flour
1 ½ teaspoons baking powder
¼ teaspoon baking soda
2 eggs, slightly beaten
1 teaspoon grated fresh ginger, (optional)
1 ½ cups shredded carrot, about 2 large carrots
1 cup packed shredded zucchini, about 1 medium zucchini
1/3 cup packed brown sugar
½ cup golden raisins, (optional)
½ cup coconut oil
¼ cup maple syrup
1 teaspoon vanilla
Instructions:
Preheat the oven to 350F. Line a 9 inch baking pan (round was used in video) with parchment paper.
In a large bowl, combine the flours, baking powder, and baking soda.
In another large bowl, whisk the eggs. Add in the ginger, carrot, zucchini, brown sugar, raisins, butter or oil, maple syrup, and vanilla.
Combine the wet mixture into the flour mixture until you have a cohesive batter.
Pour the mixture inside the greased baking pan and bake, for 25-30 minutes, or until a wooden toothpick comes out clean. Remove from oven and cool.
Once cooled, cut into 24 squares.
Source: Adapted from Momables.com
NCCC has Registered Dietitians on staff available for counsel. Our dietitians are certified specialists in oncology nutrition and work directly with other members of your care team in supporting you throughout treatment and in survivorship. Your dietitian can evaluate and prioritize your overall nutritional needs and make recommendations based on your unique medical history and personal goals. Please visit https://cancer.dartmouth.edu/patients-families/oncology-nutrition-services for more information.