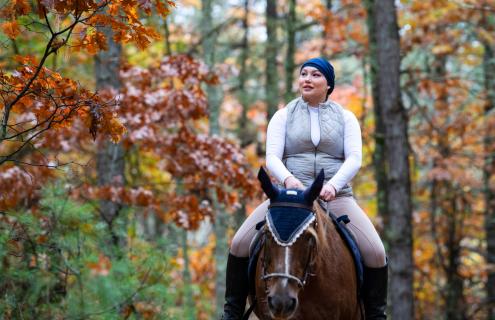 Give yourself the grace to allow each [emotion] in its own time. I've also found that if you have a really strong, positive mindset, you'll be amazed at what your brain can do to the rest of your body.
Lexi Springs
"This kind of all started with an injury. And a fast heart rate." As a person who loves to work out, Manchester, NH resident Lexi Springs was used to injuries. A particularly challenging shoulder injury sent her down a path of tests and physical therapy. 
Still with no answers, a routine self-breast exam turned up a suspicious lump that Lexi thought was a cyst. Encouraged by her coworkers at Fantastic Sam's hair salon, Lexi had the lump checked by her primary care physician, who wasted no time referring her to Dartmouth Cancer Center for further tests. With inconclusive results, Lexi opted for a biopsy. "I knew the biopsy results would show everything was fine so I could be done with this," she says. "I'd been at the doctor's nonstop for a shoulder injury, a fast heart rate as part of a heart condition and now this lump. I was getting ready to head off to college and just wanted to be done with all of this."
The biopsy results did give Lexi answers, but not the results she was hoping for. "I was with a client at the hair salon when I got the call. I had to step away to take the call. The nurse told me it was lymphoma, and asked if I knew what that was. With a background as a veterinary tech, I had a hunch. Animals get cancer too. But wanted to hear her tell me in her words."
It turns out Lexi had a rare and aggressive cancer called diffuse large B cell lymphoma. The news was followed by additional scans to inform the best treatment options for her. Lexi opted for the closest location for her care, which was Dartmouth Cancer Center in Manchester. "They could cover everything I needed in Manchester, and they're attached to Catholic Medical Center so any imaging work could go through CMC and be sent right over to the cancer center."
Lexi still refused to worry, thinking it was just one lump that could be removed and she'd be on her way. "My parents and I hoped it was early stage and I'd be fine. But when we went in to talk to Dr. Southgate for the first time, we found out it was stage 4, on the verge of terminal." Gabriele Southgate, MD, Lexi's oncologist, explained that the only way to treat her cancer was chemotherapy. Since scans showed a large mass on her sternum bone, a bone biopsy was recommended to see if the cancer was also in her bone marrow. "This is the last possible thing that anyone, even my doctors, were expecting," says Lexi.
Despite efforts to remain positive and hold herself together, it shook Lexi to await results of the bone marrow biopsy, which would tell her if the cancer was terminal. "The cancer was everywhere in my bones and breast tissue. My scans lit up like a Christmas tree. But, thank the Lord it was not in my bone marrow," says Lexi.
Still, due to the aggressiveness and advanced stage of her cancer, Lexi's care team went the extra mile to get prior authorization from her insurance company to give her a new combination of chemotherapy and immunotherapy, which was only recently approved by the FDA to treat diffuse large B cell lymphoma. She also received several oral medications.
"And here's where it gets weird," says Lexi. "I was supposed to have a scan after my third infusion, which was halfway, to see if the chemotherapy was working at all. The scan ended up getting scheduled early, after my second infusion instead. Out of nowhere, the scan came back absolutely clear. No sign of cancer anywhere. It just vanished!" Current technology allows whole-body PET CT scans to be sliced paper-thin and each slice of the scan examined up close. After examination, radiologists confirmed that Lexi's scans were normal, with no visible sign of cancer. "I'm a Christian, so I saw it as a miraculous healing—that God had my back."
Lexi's care team recommended that she still finish all six cycles in case there were cancer cells in her body so small, they couldn't be picked up on a scan. "That's not what I wanted to hear, but I understood," says Lexi. "As aggressive as the chemotherapy was, I actually tolerated it fairly well. To the surprise of my doctors—again—my white blood cell counts bounced back every time. Sometimes I wondered if I was an alien or something! These strange little miracles kept happening. And so, I knew I could finish."
And finish she did. In October, Lexi had her final chemotherapy-immunotherapy infusion. Her doctor describes her as a role model patient. "She has been accepting the diagnosis with grace and resolve and showed strength, faith and positive thinking," says Southgate. "She is indeed nothing less than an amazing young lady." Now, Lexi only looks forward to getting back on her track to Faith Bible College in Maine to study ministry. "I've relied heavily on my faith to get through everything. But not everyone shares the same faith and that's ok."
For those in a similar circumstance who don't share religious faith, Lexi emphasizes that mindset is huge and has tried her best to remain positive. "Don't get me wrong, I've felt all the emotions that come along with a serious illness—fear, sadness, anger, anxiety, confusion, self-pity—there is space for all of these. Give yourself the grace to allow each in its own time. But I've also found that if you have a really strong, positive mindset, you'll be amazed at what your brain can do to the rest of your body."
Now, feeling better, Lexi is ready to get back to the things she loves, including spending time with her favorite horse, Bear. While Lexi remains under the close watch of her care team and will have another scan in November to make sure all is well, reconnecting with Bear and with her path forward to the rest of her life makes what she calls "the strangest experience of my life," feel like a distant memory.