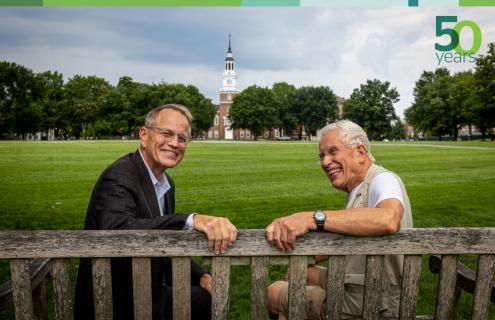 Cancer is still the most challenging biological problem that humankind has attempted to solve. Supporting teams that deal with all aspects of cancer remains a concept that merits our support.
O. Ross McIntyre
At 50, Dartmouth Cancer Center looks ahead to the promise of the Cancer Moonshot challenge. We continue to improve our already award-winning care of patients and families. While we look ahead, perhaps no one can tell us where we've been quite like O. Ross McIntyre, MD, D'53 MED'55, director of the Cancer Center from 1975 to 1992. This summer, current director Steven D. Leach, MD, met with Dr. McIntyre to reflect on 50 years of cancer innovation and care.
Leach: We're grateful for all you've started here, Ross. It must be gratifying for you to see cancer treatment options accelerating so rapidly today, giving more hope to our patients. What has changed the most dramatically in 50 years?  
McIntyre: In 1953 the year I graduated from Dartmouth College, Watson and Crick reported the structure of DNA. In 1954, Eugene Becker, our instructor in Biochemistry at Dartmouth Medical School, changed his planned lecture to show us the first few inches on the new paths of cancer discovery that lay before us because of Watson's and Crick's report.
Since then, our understanding of life's processes has improved, and new tools can capture and define pieces of those cancer paths. We can change the structure of the cancer pathway and study parts to better understand how life's chemistry works.
We have learned that changes in the chemistry of a cell's life, or the body's response to that cell, result in cancer. Now that the tools are available, we seek to change that chemistry. Research is taking us in the direction of restoring the chemistry toward normal. Our roadmap of the paths leading to cancer is being filled out, and we have some idea of where we are going and how to get there. That's why there are so many new ways to treat cancer.
Leach: Today, Dartmouth Cancer Center is a multi-state network, caring for patients at Norris Cotton Cancer Care Pavilion in Lebanon and facilities across New Hampshire and Vermont. What was the clinic like in the beginning?
McIntyre: The Hitchcock Clinic was started by four physicians who wanted to replicate the Mayo brothers' basic idea for their clinic in Minnesota. It was a group practice in Hanover, NH. Instead of being paid by each patient, the physicians received a salary from the group practice.
Every morning as a resident physician in 1958, I received a list of all clinic members (about 30) and their assignments. East Ward and West Ward each contained around 25 beds. The wards were for patients without health insurance or means to pay for private rooms. A clinic member was assigned as an attending physician to make rounds on those wards, but day-to-day care was the responsibility of the chief medical resident. Medicare changed all that.
Leach: Our rurality has always made us unique amongst other top cancer centers. How did that play a factor at the beginning? 
McIntyre:  For a time, it made recruitment of certain new faculty difficult but that has evaporated as the medical center has grown. We cooperated with the Vermont Medical Center as it developed its cancer center, and has benefited from individual and public support of our programs throughout New England and the country at large.
Leach: I see such inspiring cancer-related collaboration between Dartmouth and Dartmouth Health in a way I don't recall seeing other institutions. Was it always this way? What was the research ecosystem like here in the past?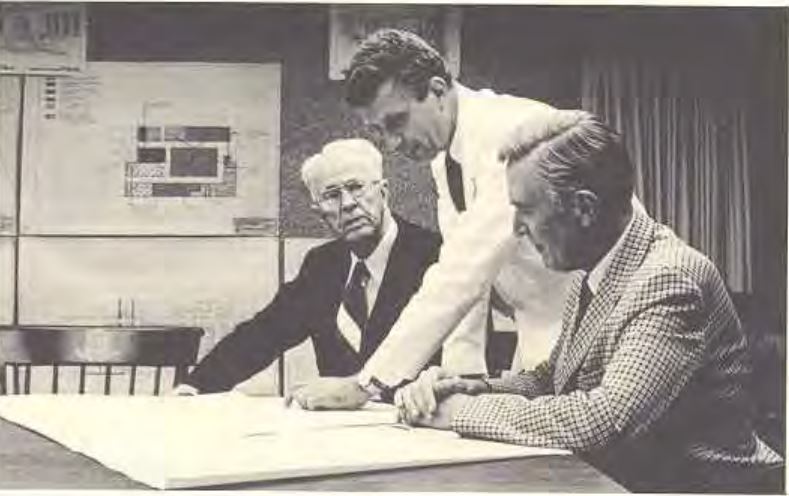 McIntyre: The Cancer Center evolved when Dartmouth Medical School was a two-year school, from which students transferred to other medical schools for the third and fourth years of their medical educations. Several other Ivy League schools had reputations for excellence in medical education and robust programs in cancer research—when research programs in Hanover were just developing. It was lucky that efforts by a few in the preclinical sciences and several in the clinical area reinforced each other effectively and made us competitive on the national scene.
It took some time before it was realized that cancer treatment, research and education should involve the whole medical center--hospital and clinic, and medical school. The first National Cancer Institute (NCI) grant for the Cancer Center required the support of all three entities—and the Cancer Center had to demonstrate that each institution was essential to its success.
Leach: And we have been continuously funded by the Core Grant as an NCI-Designated Cancer Center since 1978 and a Comprehensive Cancer Center since 1990. Speaking of which, we just started the year-long preparation for the renewal of our NCI Core Grant. What was the early Core Grant process like?
McIntyre: I encouraged as many Cancer Center members as possible to volunteer to serve as Reviewers of cancer grants at other institutions. I hoped they could serve as study section members, site visitors and consultants to make them aware of how other centers were performing and get the broadest view of current research. I perhaps was the first Cancer Center director to insist that fiscal affairs be managed by a person with a Business Administration degree. Responsible management and up-to-date knowledge of the bottom line was a critical advantage we enjoyed over other cancer programs.
Soon, I served as the chair of the Centers Review Committee and later as president of the American Association of Cancer Centers. I was pleased that successive directors of our Cancer Center also assumed leading roles in various NCI initiatives.
We are all still working toward the same goal. This type of activity is important to our Core Grant. First-hand knowledge of technique and critique of new ideas is still essential, and we are still a lot smaller than some of our competitors. We need to be members of a world of gifted researchers and participate equally to really enjoy our uniqueness.
Leach:  Ross, your energy is contagious. I cannot wait to read your memoir to learn more about your early days as Cancer Center director and your life in New Hampshire. You also celebrated a milestone birthday this year—any words of wisdom for the staff and faculty of Dartmouth Cancer Center?  
McIntyre: I recently looked over what I said to the NCI staff when quite suddenly, there was not enough money in the budget to fund many of the NCI-approved cancer centers. What I learned from this—and from knowing how NCI managed itself after this interval—is that knowledgeable people who meet and work toward a goal they view as worthwhile is something that makes me feel happy, and I should help if I can. All I ask is that they not be selfish with their goal and welcome those who suggest weakness in design, as well as ways to strengthen it.
The heart of a good cancer center program is the community of scientists and physicians who unselfishly share their resources. They engage in instructive review of result and methodology. They find teamwork gratifying. The center offers support to the investigators who share expensive equipment and to critical personnel.  Morale and productivity is high and the shared reward justifies the operation.
Cancer is still the most challenging biological problem that humankind has attempted to solve. Supporting teams that deal with all aspects of cancer remains a concept that merits our support.
***
While hard to keep up with Dr. McIntyre in his 90th year, you might find this avid canoeist and author of Paddle Beads reading his draft memoir on his property's corn crib to neighbors or adventuring with family on rivers and trails across the globe.