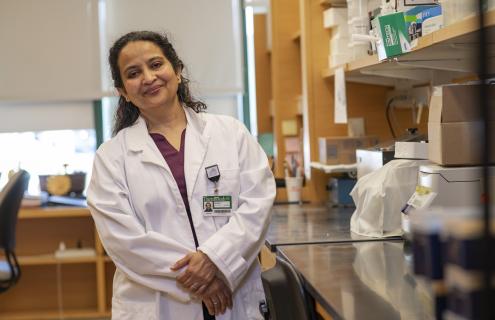 In its first year, the Accelerator attracted 17 teams, made up of 41 faculty and students, all eager to turn discoveries into life-changing treatments for cancer patients.
Dartmouth Cancer Center Director, Steven D. Leach, MD
One year ago, Dartmouth Cancer Center and Dartmouth's Magnuson Center for Entrepreneurship joined together to conceive the Dartmouth Innovations Accelerator for Cancer. This novel platform quickly became a sought-after launching pad for research teams to receive the entrepreneurial support, education, and infrastructure needed to translate promising innovations into the marketplace. With guidance from alumni and industry leaders and philanthropic generosity, Dartmouth cancer research can more easily advance through the development pipeline to commercialization.
From November 2020 to April 2021, 17 teams of faculty and students competitively pitched their projects to an external review panel of successful biomedical entrepreneurs and investors. In this video, researchers from the three winning teams share how the Accelerator is advancing their innovations.
Assistant professor of neurology, Arti B. Gaur, PhD, and two graduate students from her lab, won the largest $300 thousand award for their project on a new potential therapy for high-grade gliomas, a kind of brain tumor for which the median survival is only 14 months. The award will help fund a critical next step on the journey to clinical trials: large-scale pharmacology studies by an independent commercial lab. "This award will help us get to the next phase, where we can potentially attract the big money that will be needed for clinical trials," says Gaur. "I have also seen my approach and thought process evolve as a result of the Accelerator, to think in a more systematic, comprehensive way about bringing a new therapy or technology to patients."
The 2021 Award Recipients are:
$300,000 Award
Establishing a Safe, Effective Therapy for Brain Tumors
Project Leads: Arti Gaur, PhD, assistant professor of neurology, Geisel; and Jordan Isaacs, Guarini '24, PhD student in the Cancer Biology Program.
The Innovation: The award will fund dose optimization and pharmacology studies for a new, Dartmouth-created highly selective anti-estrogen compound that targets brain tumors. The studies are necessary to enter clinical trials.