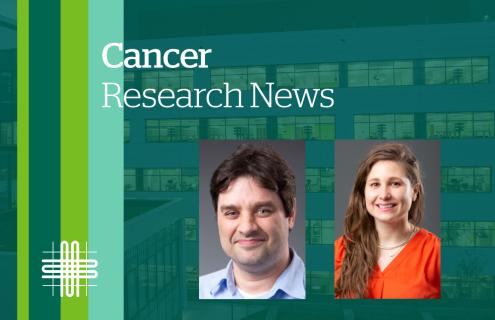 Our hope is that studying different areas of these tumors using [this technology] will allow us to come up with specific therapeutic targets.
George J. Zanazzi, MD, PhD
Dartmouth Cancer Center together with the American Cancer Society (ACS), recently hosted Research Day to recognize the impact of the research funded by ACS. The event also provided ACS Institutional Research Grant recipients the opportunity to share outcomes.
Two Cancer Center researchers—one focused on using new technology to better understand and treat brain tumors, and another studying barriers to regular exercise among breast cancer survivors—presented their work, which can be viewed on Dartmouth Health's website.
Precision brain tumor research
The Central Brain Tumor Registry of the United States published data showing that New Hampshire, Vermont and Maine have some of the highest incident rates of malignant, or cancerous, brain tumors in the country. Meningiomas are the most common type of brain tumors, but less than 30% are malignant. Glioblastomas are malignant with generally poor outcomes.
Neuropathologist George J. Zanazzi, MD, PhD, of the Dartmouth Hitchcock Medical Center Department of Pathology and Laboratory Medicine's Emerging Diagnostic and Investigative Technologies Program, detailed his research team's work on a new technique to study brain tumors called Digital Spatial Profiling (DSP).
"The current way of diagnosing brain tumors leaves a lot of unextracted information in tissue specimens," Zanazzi said. "Our hope is that studying different areas of these tumors using DSP will allow us to come up with specific therapeutic targets."
DSP helps researchers study RNA and protein level changes in different types of brain tissue samples. This powerful technology targets very specific areas of tissue—providing analysis of up to 96 tissue regions per slide.
Using DSP, Zanazzi and his team studied what makes meningioma tumor cells that do invade the brain different than those that don't invade the brain. Their results showed decreased hormone receptors and HER2 proteins in the invasive cells.
This information and future experiments will help scientists figure out more targeted and effective brain cancer treatments.
Understanding exercise among breast cancer survivors
Research shows that the risk of cancer death decreases by 2.5% with every additional 15 minutes of moderate to vigorous physical activity each week. Exercise guidelines shared by the ACS and the American College of Sports Medicine recommend adults exercise 150 minutes or more each week, but cancer survivors only need about 90 minutes. This helps reduce the risk of cancer reoccurring, and improves mental health outcomes, including less anxiety, depression and pain.
Courtney J. Stevens, PhD, MA, clinical psychiatrist at Dartmouth Hitchcock Medical Center, shared her progress using the evidence-based ORBIT clinical research model—recommended by the Health Behaviors Research Branch of the National Cancer Institute—to study an "exercise prescription" to increase physical activity among breast cancer survivors.
With research showing many people experience displeasure during exercise, Stevens is working to understand how to make exercise more acceptable. Her first study followed 30 breast cancer survivors for 12 weeks. Along with phone surveys and having participants wear an exercise belt to measure movement, participants used their cell phones to answer three questions about how they felt during exercise.
"While participants reported a high rate of accountability and motivation, the exercise check-ins were not well accepted," she shared.
Most participants agreed with Stevens' idea that a smartwatch with a bigger screen would be easier to use. She went back to the ORBIT model to refine this method, and the Dartmouth Information, Technology and Consulting Department created a PHITbit application for smartwatches.
Stevens is looking forward to testing this method with many of the same participants from her original study. The goal is to determine if the smartwatch is an effective tool—not if it will change behavior.
Both Zanazzi and Stevens expressed their gratitude to the ACS for making these research programs possible.
The full presentations are available on the Dartmouth Health website.