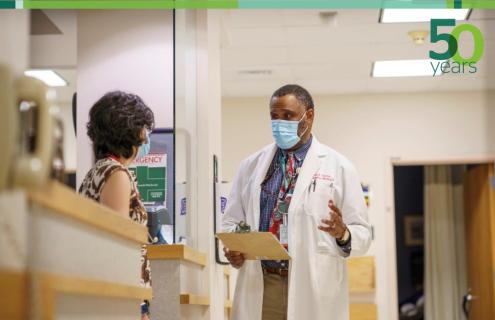 I'm not interested in an elitist approach to mentoring. I'm looking to be part of building villages, teams and collaboration where everyone wins.
Charles R. Thomas, Jr., MD
He quite literally wrote the book on mentorship, and has won related awards throughout his extensive career in medicine. But what he wants you to know is, "What I do is normal. I am normal."
Charles R. Thomas, Jr., MD, has completed his first year as section chief of radiation oncology at Dartmouth Cancer Center. His interest in the program reaches back to 1975 when he came to Dartmouth College as an undergrad. Keeping track of its growth and achievements from a distance for decades, Thomas has always felt that the quality of work done in the program has been under-appreciated on the national stage. "Recruiting himself" to Dartmouth Cancer Center, as he likes to say, he has been on a mission to get the Radiation Oncology program the recognition it so richly deserves, while preparing it for an even more robust future through mentorship of the next great generation of research investigators and clinicians.
"I never needed to be convinced to come to Dartmouth Cancer Center. I've always had it in my mind that if the right opportunity were to arise, I might see if I could become part of the leadership in the radiation oncology program," Thomas says. "I already had a belief that we're doing great things, but can do much more. I want to be part of that."
Arriving after 15 exciting years as the department chair of radiation medicine at Oregon Health and Sciences University in Portland, OR, Thomas is already building a culture of mentorship and sponsorship that he hopes will launch his mentees and those of his colleagues to greater heights than even he has reached in his own career. "I want my mentees to exceed me. To get more done and be more efficient. Part of mentoring is setting people up to really excel to their fullest potential," he says.
The balance of an academic medical system
Training future clinicians and researchers is the lifeblood of an academic medical system like Dartmouth Health. Thomas keeps track of career development in academic medicine, regardless of specialty. In 2021, he and his colleagues co-edited and published the 1st edition of Career Development in Academic Radiation Oncology. They found that mentoring and sponsorship are sporadic, particularly among women and under-represented minorities, resulting in younger generations functioning at an unnecessary greater deficit.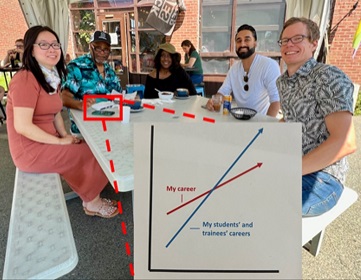 Thomas and the radiation oncology team are bridging the gap by weaving mentorship, sponsorship and career development plans into normal, everyday routines. "Similar to how people who go to graduate school have a thesis committee, having a mentorship committee is going to be important," says Thomas. "It's an iterative process that allows for constant excitement, discovery and growth. And at the end of the day, a more balanced physician results in superior, consistent patient care. It doesn't take away from patient care, it elevates it."
Thomas acknowledges the many very sharp minds amongst the physician investigators throughout the Dartmouth Health system who excel at patient care. He also notes that career development in nurturing academic and scholarly output and teaching should be equal partners to the clinical mission. "Certainly in my program, all of the missions are valued. We want our faculty to bring balance. And we're excited about this—it could actually be a fun journey. It's not a mandate and it's not trying to make things more difficult. It's trying to make things more balanced."
What makes a mentor?
Thomas values approachability and willingness to give time among the top virtues of a good mentor. He favors interaction with a broad spectrum of learners, viewing medical students as faculty in training, and doesn't let his status as section chief and former department chair become a barrier to productive relationship building. This open door and aversion to the silo-based, traditionally hierarchal mentality that has been heralded in academic medicine allows Thomas to facilitate career-changing connections between mentees and other faculty members. "I'm not interested in an elitist approach to mentoring. I'm looking to be part of building villages, teams and collaboration where everyone wins ," he says.
Thomas' proactive networking and mindset of normalizing mentorship flows seamlessly into efforts to increase diversity in science and medicine. While on paper he is Associate Director for Diversity, Equity and Inclusion at the Dartmouth Cancer Center, he seldom mentions the title, preferring to simply ingrain the aims of the program into everyday life. "I may get accolades and titles, but the work I do needs to be normalized. It needs to be part of the regular work we do and not a checkbox or an afterthought," says Thomas, whose normal discourse is interacting with diverse populations of students.
"When I recruit or consider faculty for promotion and/or tenure, in addition to the standard packet, I'm also interested in the candidate's diversity, equity, inclusion and justice statement. I'm just asking for something that's normal," he says, comparing the expectation to that of asking dinner guests about dietary preferences or food allergies, which has become not only normal, but a courtesy in today's culture. Simply by normalizing such a recruiting approach, Thomas has already begun to build a more diverse team and double the number of highly talented women faculty who have joined Dartmouth Cancer Center's radiation oncology program.

Most recently, Thomas was selected as one of only two recipients of the inaugural American Society for Radiation Oncology (ASTRO) Mentorship Awards. Nominator and mentee Clifton David Fuller, MD, PhD, of MD Anderson Cancer Center writes: "Dr. Thomas exemplifies what is best in our field in terms of his commitment to the development of others, as well as decades-long impact upon radiation oncology through his world-renown mentoring practices, which not only have enabled our disciplines growth, but serve as a template and model for any who would aspire to be a mentor and sponsor….his fingerprints are on so many careers it's like an academic crime scene." Thomas is proud of and humbled by the award and mostly hopes it can serve as a symbol of how department chairs and other leaders in academic medicine can approach career and faculty development.
When asked about mentors who made a notable difference in his own career, Thomas refers to Fuller in what he values as "reverse mentoring." Thomas met Fuller when the latter was a medical student. Fuller's ability with technology opened up research venues to Thomas that he may not have pursued otherwise.
Preparing for the future
At this stage in his career, Thomas is looking at his mentorship career development contributions as transitional. "I believe in Dartmouth, I believe in the medical center, I believe in the medical school and I believe in the Cancer Center. And I certainly believe in the accomplishments and the potential of the radiation oncology program. My successor will be set up to really blow the doors off the place in a positive way, for my department, for the cancer center and beyond," he predicts.
Academic medicine can be challenging, but Thomas' mentees could not be better poised to leave their mark on its future. In a career path that can be fraught with roadblocks, adversity and frustration, Thomas offers this reminder: "As an oncologist you're able save lives when they might have died; as a scientist, you can discover new knowledge than can change the world; and as faculty you can shape the future by training people who will be better at what you do than you. If that's not enough to get you out of bed excited, what is?"