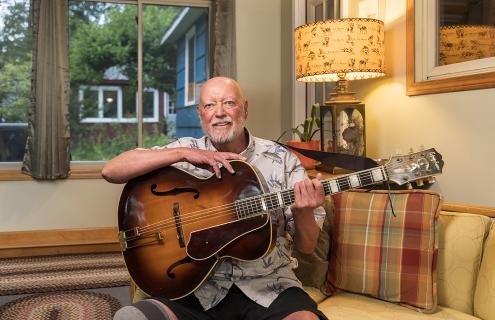 My outlook is to remain hopeful that I'll get through this and look at the positive things happening in my life.
Andre Tremblay
Not all types of cancer are well known. Andre Tremblay had never heard of cutaneous lymphoma before he was diagnosed with it 15 years ago. A skin rash turned into a referral from his doctor to Dartmouth Hitchcock Medical Center. After a series of allergy tests and biopsies, he learned he had cutaneous T-cell lymphoma, a rare type of cancer that begins in white blood cells called T cells. 
When working properly, T cells are an important part of the body's germ-fighting immune system. In cutaneous T-cell lymphoma, abnormalities develop in the T cells that make them form rashes (patches, plaques and tumors) in the skin instead. In Andre's case, the cancer spread into his blood and became an even more rare blood cancer called Sézary syndrome.
Since then, Andre has been under the care of dermatologist Joi B. Carter, MD, and Hematologist-Oncologist Frederick (Erick) Lansigan, MD, a duo whose individual areas of expertise partner with experts in radiation oncology to be able to offer the full range of therapeutic options for people with cutaneous lymphoma. For a small clinic and a rare cancer, the cutaneous lymphoma team is surprisingly busy caring for an increasing number of patients.
The long treatment path
Andre has undergone a number of procedures over the years to manage his illness, including photopheresis and light treatments. "They work for a year or two or three, and then eventually we have to try something else. My team is monitoring me very carefully to keep me on the right path of options and make sure the cancer isn't spreading to my organs," he says.
Andre just finished a course of total skin electron radiation therapy, an intense treatment that requires complex planning by physics and clinical teams. With the next closest facility (and only other facility in New England) to offer this therapy in Connecticut, the Dartmouth Cancer Center team sees patients from all over New England.
Each patient is also screened to see if they are eligible to join one of more than 240 National Cancer Institute and Dartmouth investigator-initiated clinical trials offered at the Cancer Center. Andre enrolled in a trial of a new drug that may be used in the future to treat cutaneous lymphoma. While his own body did not tolerate the drug well, and he was taken off the trial for safety, Dartmouth researchers have seen success overall in clinical research. Contributions from clinical trials are increasing and improving treatment options for this under-studied cancer.
"Our specialty clinic for a rare disease has been the source of great research output thanks to our collaboration with dermatopathology, dermatology, and radiation oncology teams at Dartmouth Health," says Lansigan, who also directs clinical research operations in Hematology. "We may be a smaller, rural academic medical center, but we offer the same cutting-edge treatments as larger centers with our own personal touches to ensure a good patient experience."
Andre has relied on his team to bring the best treatments forward. "The people I have working on my case are just wonderful—it couldn't be a better hospital. We're so lucky in the middle of nowhere to have this world-class facility in our pocket," he says.
The music maker
Through it all, Andre has focused on keeping a positive attitude, a mindset he feels has been vital to helping him through his journey. "Try to maintain a normal lifestyle as much as possible, keep enjoying the things that you really enjoy and stay connected to people who care about you."
For Andre, enjoyment means making music. He loves boating and fishing, but his true passion is songwriting from his home music studio where he keeps a beautiful collection of nice guitars. "I write songs and record them, and then I send them to friends and I put them online. I've got about 20 songs on YouTube. That's been my passion my whole life." He was even in a music group in the 1970s, "And then I decided to get a real job, which I should never have done!" he laughs.
For 15 years, Andre lived a very normal life, working every day at his career in banking, where no one even knew he was sick. "So I was lucky. But things will be changing here soon."
In August, Andre will have chemotherapy and a stem cell transplant. In this procedure, healthy blood stem cells are infused into the bloodstream. The transplanted stem cells find their way to the bone marrow where they hopefully begin producing more new, healthy blood cells. While Andre didn't feel the procedure was right for him when it was recommended three years ago, he has since reconsidered. Carter and Lansigan supported Andre in his decision since he was otherwise in good health. "Hopefully, I'll have the stem cell transplant, and it will go well, and I'll recover and maybe I'll be cured. Who knows? Even for some period of time. That's where I'm at now," he reflects.
Andre acknowledges the importance of a support system, "Not only for you, but for your spouse and for those around you who are trying to help you—they need support too," he says. His main support comes from his wife, Kathryn, who drives him to and from his radiation therapy sessions every day and will be his main care partner after his stem cell transplant.
Despite the difficulty of managing his illness, Andre still feels lucky in a lot of ways. "I've got the best care I could possibly have, I've got a wonderful wife to help me, and now that I'm retired I don't have to worry about work. My outlook is to remain hopeful that I'll get through this and look at the positive things happening in my life."