By

Beth Carroll

Photography by

Mark Washburn
I am always looking for ways to add fruits and vegetables into anything.
Elise Cushman, NCCC oncology nutrionist
A Matter of Taste
The word "diet" usually conjures up images of cottage cheese, carrot sticks and low-fat anything. Not so with the "chemo diet," where it's all about maintaining and, in some cases, gaining weight. It's important that chemotherapy patients eat to stay strong, yet one of the side effects of chemotherapy drugs is that patients often lose their appetite. And ironically, just when patients need calories the most, food just doesn't taste the same. Even favorite dishes lose their appeal.
Chemo and Your Taste Buds
"Chemotherapy drugs affect taste buds as well as cancer cells," says Elise Cushman, MS, RDN, LD, CSO, a certified specialist in oncology nutrition at the Norris Cotton Cancer Center (NCCC) at Dartmouth-Hitchcock. As an outpatient oncology dietitian, Cushman provides nutritional guidance to cancer patients before, during and after their care. It's a complimentary service offered by the Center, aimed at helping cancer survivors prepare and enjoy foods that provide much-needed calories and can, in some cases, help reduce the risk of cancer recurrence.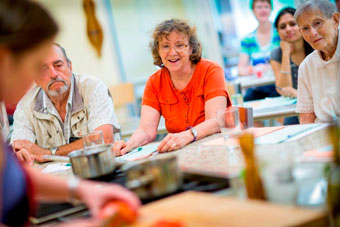 Eat Your Fruits and Veggies
Fruits and vegetables have been shown to have potential powerful cancer-fighting properties. Those fruits and veggies top the list of what Cushman calls the "superhero" foods for battling cancer. They also top her list of ingredients in NCCC's "Lunch and Learn Cooking Demonstration."
Five Tips for Better Tasting Food
Cushman says cancer patients often complain of a lingering taste of metal in the mouth ("metal mouth") or food tasting like cardboard. "That's because medications get into saliva," she says, "and that can leave a bitter taste."
Cashman offers these five tips for counteracting metal mouth:
Use plastic utensils
Don't cook in cast iron or metal cookery. Try Pyrex glassware
Don't use iodized salt. Substitute with sea salt
Add a little acid, from citrus fruits such as lemons, limes, or oranges
Use herbs and spices to add flavor
Cushman says don't forget to wash raw fruits and vegetables – including those that will be peeled – with cold water. Use a clean vegetable brush to scrub produce with a thick skin, such as melons or potatoes. Even prepackaged and prewashed leafy vegetables should be rinsed with cold water: no soap, diluted bleach or vinegar solution needed.
Recipes That Taste Good and Are Good for You
A former chef, Cushman has three recipes that show how patients can spice up legumes and add flavor to meals with recipes that taste good, look good and are good for everyone.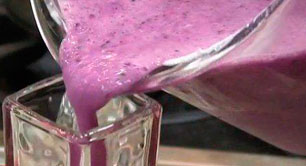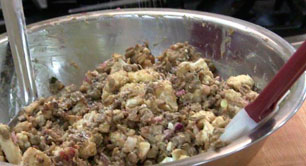 Additional Resources