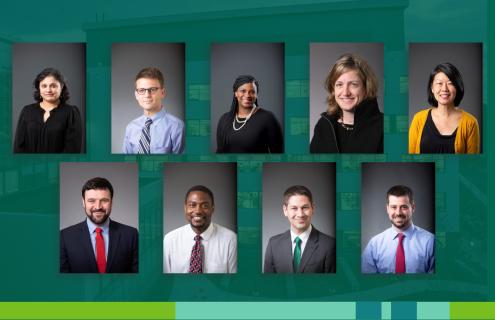 The best care we can provide to our patients long term is to reduce cancer morbidity. This is why we are committed to supporting the Dartmouth Cancer Faculty Fellows.
Linda T. Vahdat, MD, MBA
After a successful pilot term, Dartmouth Cancer Center is proud to announce a new cohort of Dartmouth Cancer Faculty Fellows. The program is funded at $1M a year through Dartmouth Health's ongoing investment in its research mission, supplemented by additional Dartmouth Cancer Center philanthropic support. The program allows selected Dartmouth Cancer Center clinicians up to 40% (two days/week) protected time to dedicate to cancer research for the next three years. Two of the nine Fellows will additionally serve as Currier Clinical Scholars thanks to the generosity of the Currier family.
Fellows were selected by the Dartmouth Cancer Center Executive Committee based on the quality of submitted research plans; mentorship plans; diversity, equity and inclusion statements and letters of support from their respective department chair or section chief.
"We were delighted to see applications from both current Cancer Faculty Fellows wanting to progress their work with new aims, and from new clinical investigators. Serious pursuit of such promising clinical cancer research endeavors only reinforces Dartmouth Cancer Center's position in and commitment to cancer research that both serves our current patients and also has global impact," says Dartmouth Cancer Center Director Steven D. Leach, MD.
The nine applicants chosen to receive funding range from junior doctors to seasoned investigators, all with great ideas who just need dedicated time to carry out their research plans.
Manik Amin, MD, Medical Oncologist, Assistant Professor of Medicine—Amin's research focuses on rare gastrointestinal (GI) cancers. "Protected time through Cancer Faculty Fellows will allow me to complete my investigator-initiated clinical trials currently in development, design new internationally collaborative trials in rare GI cancers, establish myself as a rare GI cancer expert in northern New England and foster research collaborations across Dartmouth Health."
Gabriel A. Brooks, MD, MPH, Medical Oncologist, Assistant Professor of Medicine—A 2019 Cancer Faculty Fellow, Brooks' research evaluates healthcare delivery approaches. His long-term goal is to develop a nationally recognized program that enhances cancer care by improving delivery and preventing treatment-related complications. "Renewed support from Cancer Faculty Fellows will provide critical assistance as I await NIH review of my recently submitted R01 grant proposal—a product of my initial Cancer Faculty Fellowship award."
Rian M. Hasson, MD, MPH, FACS, Thoracic Surgeon, Assistant Professor of Surgery—Hasson is surveying the lung cancer screening landscape in order to pilot new mobile lung cancer screening clinics in remote rural areas. "As lung cancer remains the number one cancer killer, increasing participation in screening is vital to reducing mortality. My aims are to identify lung cancer screening-eligible patients in rural New England communities; assess barriers to screening referral, enrollment and retention; pilot mobile lung cancer screening methods and then evaluate their effectiveness."
Lesley A. Jarvis, MD, PhD, Radiation Oncologist, Associate Professor of Medicine—Jarvis' dedicated research time will be used to launch three clinical trials to improve radiotherapy (radiation) delivery: 1) investigating pre-operative radiotherapy for early-stage ER+ breast cancers, 2) a first-in-human clinical trial of FLASH-RT (ultra-high dose rate radiation) using a converted linear accelerator and 3) testing a prototype of the Dartmouth-developed Cherenkov Imaging camera system that allows technicians to visualize the radiation beam on the patient's skin.
Bonnie W. Lau, MD, PhD, Pediatric Oncologist, Assistant Professor of Pediatrics—Lau's Fellowship research project will test the hypothesis that immune checkpoint inhibitor can prevent childhood acute myeloid leukemia (AML) relapse. "This work will provide novel longitudinal details of the immune landscape and tumor mutational burden in childhood AML in diagnosis, treatment and relapse."
Andrew P. Loehrer, MD, MPH, Surgical Oncologist; Assistant Professor of Surgery—Loehrer's research focuses on the intersection of state and federal health policy with vulnerable populations.  "As junior faculty at the nation's largest rural cancer center, I'm interested in determining the influence of rurality and other socioeconomic factors on disparities and inequities in cancer care. My goal is to become a leader in policy evaluation and improvement."
Rodwell Mabaera, MD, PhD, Medical Oncologist, Assistant Professor of Medicine— Mabaera's research focuses on selection of therapies for bladder cancer. "The long-term goal of this proposal is to carry out innovative studies that will test therapeutic targets, assess response to therapy at the molecular level, including treatment resistance, and ultimately improve treatment choices for patients with bladder cancer."
Joseph D. Phillips, MD, Thoracic Surgeon, Assistant Professor of Surgery—A 2019 Cancer Faculty Fellow, Phillips' research centers around immunology in non-small cell lung cancer. His continued Fellowship work will focus on the role of immune cells and tumor-draining lymph nodes. "This work has the potential to lead to future cell-based immune therapies to prevent disease progression in multiple cancers."
Garrett T. Wasp, MD, MPH, Medical Oncologist, Assistant Professor of Medicine—Wasp's research looks at the impact of high-quality communication about prognosis, patient values and advance care planning—called Serious Illness Conversations—on end-of-life care and patient quality of life. "My goal is to develop and test scalable digital tools that foster more effective communication among patients, their care partners and clinicians."
Since 2019, the inaugural cohort of Cancer Faculty Fellows has leveraged their protected research time to open new clinical trials and generate additional large-scale national and extramural grant support. Major accomplishments include a nearly $33M Patient-Centered Outcomes Research Institute (PCORI) grant to Audrey H. Calderwood, MD, MS for her team's clinical research on colorectal cancer screening in older adults.
Other achievements include two investigator-initiated studies launched by Gabriel A. Brooks, MD, MPH, to develop new approaches for individualized, safe and effective treatment of gastrointestinal cancers with a particular chemotherapy. A follow-up study from one of these trials is the aim of his renewed Fellowship. Both Brooks and Fellow Joseph D. Phillips, MD, who also launched two new clinical trials, have promising grant applications currently under review with the NIH.
Amidst staffing challenges in the wake of the pandemic, each applicant required department chair approval to participate in the fellowship, with a departmental commitment to provide ongoing seamless patient care. "The best care we can provide to our patients long term is to reduce cancer morbidity. This is why we are committed to supporting the Dartmouth Cancer Faculty Fellows," says Linda T. Vahdat, MD, MBA, deputy Cancer Center director and section chief of Medical Oncology. "Anticipating the need for increased clinical coverage, we are continuing to recruit additional medical providers and optimize our clinical operations so that the transitions are smooth within individual teams."
"We are very grateful for the ongoing investment and the ability to offer this program," says Leach. "The investment provides a highly effective way to enhance not only academic opportunities for our faculty but also the quality of clinical care that our patients receive, backed by world-class research being led by their very own oncologists."