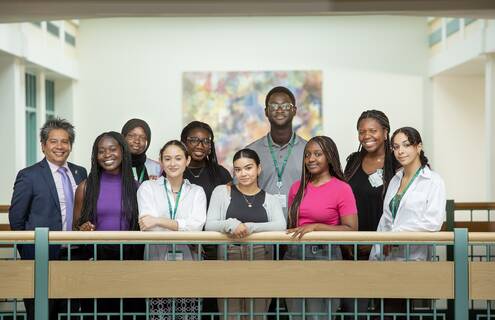 As we talked about my aspirations she told me about POWERED and I thought it would be a great program to be a part of.
Grace Ugochukwu
Only a few months ago, Dartmouth Health received an endowment gift from Dick and Barbara Couch, magnified by the Byrne Family Research Institute. The gift was made to further inclusive excellence at Dartmouth Cancer Center through recruitment and retention of up-and-coming cancer clinician-scientists from under-represented groups in medicine, and by creating new faculty fellowships.
Faculty & staff
This historic gift—the largest philanthropic investment to date in support of Diversity, Equity, Inclusion, and Belonging (DEIB)—is already having tremendous success. First, this summer, Dartmouth Cancer Cancer welcomed Oluwatoyin Asojo, PhD, as our new Associate Director for Strategic Initiatives, and Tonya Mathis, MEd, as Executive Director of Dartmouth Cancer Center Office of DEIB.
In her new role, Asojo will optimize synergy between our offices of DEIB, Education and Community Outreach, ensuring that a strong commitment to DEIB is integrated across the entire spectrum of Dartmouth Cancer Center activity. Mathis will partner with Dartmouth Cancer Center Associate Director for DEIB, Frederick Lansigan, MD, to advance plans to enhance diversity.
In addition, the new Couch Faculty Fellows program will provide a fantastic opportunity for early-career physician-scientists to advance their careers in cancer research. The program provides selected participants with protected academic time and resources for research centered on inclusive excellence.
Powering up education
Finally, this summer, Dartmouth Cancer Center welcomed students from New Hampshire community colleges and historically black colleges and universities (HBCUs) around the country to partake in a unique residential cancer research experience. The Program for Oncology Workforce Education and Research Experience at Dartmouth (POWERED) is a 2-year program for undergrads who are from groups underrepresented in medicine. The students do full-time cancer research during the summer and 10 hours per week of research during the academic year.
POWERED started in late winter when Linda Kennedy, former Associate Director for Strategic Initiatives & Global Oncology, and Steve Fiering, PhD, Associate Director for Cancer Research Training and Education Coordination, met with Lisa McBride, PhD, Geisel School of Medicine Associate Dean for Diversity, Equity and Inclusion. "March is late to recruit for a summer program start. But Lisa led the effort and utilized her contacts at HBCUs and within two weeks got us 11 applications, 9 of which we accepted into the POWERED program," says Fiering. With McBride's continued networking and additional funding from Dartmouth Cancer Center, program organizers welcomed an additional 6 students in a second cohort of the program called POWERED Plus.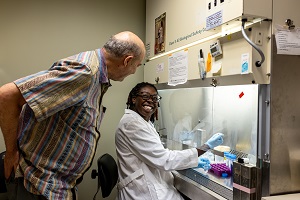 One of the students is Grace Ugochukwu, a public health major at The University of Texas at Austin, who heard about POWERED when she attended the American Medical Education Conference in Connecticut in April. "I stopped at Geisel's table and immediately engaged with Dr. McBride. As we talked about my aspirations she told me about POWERED and I thought it would be a great program to be a part of. I applied immediately."
Staying curious
With aspirations to become a physician-scientist with an emphasis on global health research, Ugochukwu expanded her laboratory skills in the Fiering lab, where she learned more about immunology and cancer immunotherapy—a type of treatment that engages the body's own immune system to fight cancer.
With new connections and even friendships with the other students in her cohort, Ugochukwu will continue cancer research during the academic year by focusing on different ways to effectively communicate science to different age groups. A bit skeptical at first about coming to rural New Hampshire, Ugochukwu was pleasantly surprised and will return next summer to work in the Fiering lab.
"This experience will help me overcome challenges on my career path by emphasizing the importance of knowing the background behind what is being done, whether it be why a particular drug is used and its background to how airplanes fly," she says. "This is why I believe it is extremely important to stay curious."