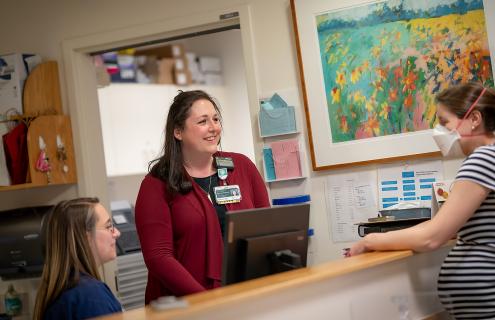 When you acknowledge people as experts in what they do, you validate their worth. They trust the vision, and they're willing to participate.
Miriam Dowling-Schmitt, MS, RN, CPPS, CPHQ
Oncology nurses wear many hats and are by their patients' sides throughout the cancer journey. Staffing shortages from COVID-19 presented nationwide challenges that the nursing teams at Dartmouth Cancer Center still face with nimbleness and innovation.
Miriam Dowling-Schmitt, MS, RN, CPPS, CPHQ, senior director of nursing operations quality and patient safety for Dartmouth Cancer Center, reflects on how they are doing this and shares her thoughts on the unique roles of oncology nurses, forward-thinking leadership structure and the future of nursing at Dartmouth Cancer Center.
What do oncology nurses do?
Even before our patients meet with their oncologist—the doctor who specializes in cancer treatment–most of their care is coordinated by nurses.
Nurse navigators develop close relationships with patients as they guide them through the complex choices of treatment and care. They work alongside social workers to address any concerns or barriers patients might have, like affording medications, access to transportation or family needs.
During treatment, triage nurses provide day-to-day care like side effect management, medication questions or other health concerns.
Research nurses are deeply involved in the care of patients enrolled in clinical trials and are on the cutting edge of cancer research.
We also have nurses who work specifically in quality and safety for the Cancer Center. There is no room for error with chemotherapy, and delays in care could have a big impact on someone's life. We believe our patients deserve the absolute best, and our quality and safety staff are incredibly proactive in preventing any errors from occurring.
What is the new leadership structure like at the Cancer Center?
We chose to combine the roles of a director of nursing and director of quality and safety into one position. It's an innovative, built-in approach to an already strong culture of safety.
 
In the quality and safety field, we refer to high-reliability principles. What this means is that I am not the only leader making decisions. I defer to the leaders around me and say, "What do you think?" And by "leaders," I mean the nurses who are experts in what they do every day. The idea is to create a group of 200 patient experience leaders who feel empowered to speak up when something isn't working.
When you acknowledge people as experts in what they do, you validate their worth. They trust the vision, and they're willing to participate. That's how we've been able to make a lot of positive changes. Our nurses and staff know exactly what our patients need—and what our staff needs. We just need to listen and act on it.
How have the oncology nurses gotten through these especially difficult times?
Our nurses love what they do, and they are superb at it. There is an average of 14 years of experience for each nurse, and some have been with the Cancer Center for 25 and 35 years. So the staffing challenges we faced were hard on us because we pride ourselves on our reputation for providing outstanding care. But this strong foundation of nurses allowed us to rely on each other.
As a result of COVID-19, we discovered the incredible care our nurses could deliver remotely, particularly our triage nurses. People often assume nursing has to be hands-on, in person, but a lot is involved in nursing that doesn't have to be face-to-face. Our nurses are exceptional at this. They use their years of experience to ask precisely the right questions.
Knowing this allowed us to create a flexible environment when we were shorthanded. We built a network of nurses willing to pitch in where needed. This network included nurses from all of our locations (St. Johnsbury, Lebanon, Manchester and Nashua). Some worked from home on their days off, while others accepted additional responsibilities on slower clinic days.
What does the future hold?
Continuing to build our network of care in the areas we serve. I want to build a strong practice of quality and safety integrated into the nursing arm of leadership. I would love to expand our future leadership team to include a director of nursing practice and more nurse educators. I also see us expanding nursing roles focused on research at the PhD level.
Nurses can bring so much to the table, whether it's research in a lab or studying the humanity in our approach to care. All of it makes a huge difference.